Spring ski adventures in the Southern Sawatch
By the time the month of May arrives, many locals have hung up their skis and gotten out of town. Some head to the beach, others visit family or road trip out to the desert. I don't blame them. Winter is long, and it can be nice to get out of your ski boots.
But if you're into backcountry skiing, it's a great time to explore our local Colorado mountains.
The late spring snowpack is more stable, and the weather is generally warmer and more pleasant. More significant yet, the access to trailheads and remote valleys improves as closed roads melt out or are cleared of snow.
Sometimes it can be hard to come up with novel ideas, though. If you've been exploring your backyard for a while, you might not feel too inspired to repeat objectives you've already done. In that case, look beyond the mountains in your immediate backyard and consider exploring other summits around the state.
It's common knowledge that our state has over fifty 14,000-foot peaks. Fifty-three, to be exact, according to the Colorado Mountain Club. They can make for great ski objectives, and looking over a list or 14er guidebook can be an excellent source of ideas.
If that list feels limited— maybe your local peaks are too complex, or there aren't many nearby— consider expanding that list to include all of Colorado's 13,000-foot peaks. There are nearly 600 of those mountains in the state.
Together, the 13ers and 14ers give you 634 distinct mountains in the Colorado Rockies, from entry-level to extreme. That's more than anyone person could realistically explore in a lifetime.
The peaks are spread out across the state, divided into sub-ranges, defined by varying geology and geography.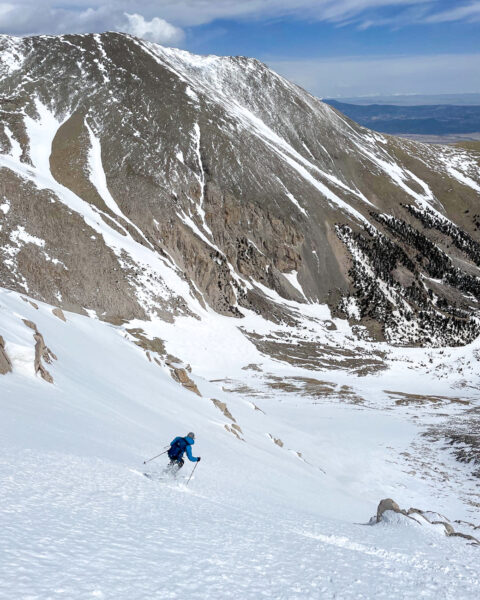 Our local mountains around Aspen are known as the Elks. The Sawatch Range is east of Aspen on the other side of Independence Pass. You'll find the Sangre de Cristos south of those mountains, which continue southward into New Mexico.
The mountains of Summit County near Breckenridge and Lake Country near Leadville are part of the Tenmile/Mosquito Range. And the Front Range peaks are just west of Denver, Colorado Springs, and Boulder— as their name implies.
The difficulty level of the skiing varies across the sub-ranges. Generally speaking, the Elks and parts of the San Juans are some of the more challenging and technical mountains in the state. The Front Range, Tenmile/Mosquito, and Sawatch offer more straightforward, lower-angled options.
Depending on the flow of winter storms and how the spring has progressed, conditions can vary between sub-ranges. Some years, the San Juans are a great destination in May. Other years they might be warm and dry or receive more dust due to their proximity to the Four Corners region.
Sometimes the spring brings big "upslope" storms to the Front Range and Sangres, and when that occurs, the skiing can be excellent in those mountains. However, absent those storms, they tend to be windblown and drier than other parts of the state.
If it's getting late in the season, you might want to shift your focus to Summit County and the Northern Sawatch. The higher elevation and colder temperatures often correspond to better snow coverage that lasts longer than in other zones.
Snow conditions don't have to be the only factor when deciding which Colorado mountains to visit. It might make sense to plan a trip to a region you just haven't been to in a while. The small nearby towns that serve as launching points are always fun to visit.
Ouray, Silverton, and Lake City are always great spots to build into a trip to the San Juans. Crestone or Westcliffe are small, colorful communities near the Sangres. Leadville, Buena Vista, or Salida are typical launching spots for the Sawatch Range.
Each time you pass through, you might discover a new taco place, coffee shop, or hot springs. Even if you don't plan to spend a lot of time there — you might just be stopping by on the drive home — those little towns become part of the trip.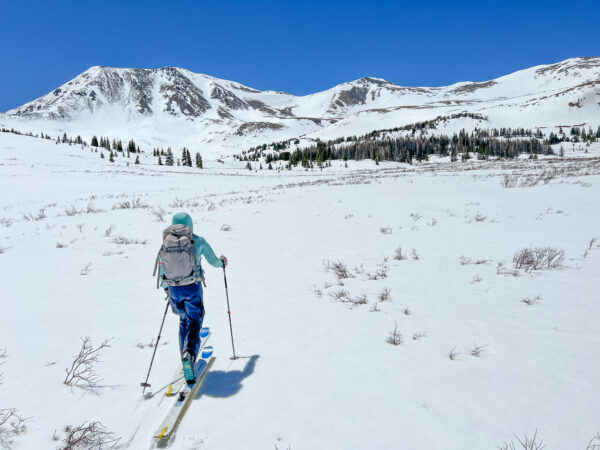 Recently, we had a weekend free that coincided with a favorable weather forecast. A friend in Salida was reporting good skiing nearby in the southern Sawatch Range. It had been a while since my wife and I had skied in those mountains. It was time to plan a trip.
We took a look at the long list of peaks and noted a few in the nearby area that we thought might offer good spring skiing. Several summers ago, we hiked three mountains in the area— Cyclone, Carbonate, and White. We knew the approach and what it would take to reach their summits.
And just like that, a novel Colorado backyard adventure was conceived.
There were plenty of unknowns. We knew the six-mile approach would be melting out. So we were uncertain when we would reach the snow line and be on our skis. Nor did we have a good idea of the ski conditions we might encounter.
But even without a complete picture, the idea sounded fun, the location was attractive, and we were excited to start a season of sleeping under the stars. It was also something new to us, and that in itself was appealing. So we packed up the truck and hit the road.
By some measures, it was more challenging than expected. We had to hike the entire six miles with skis and boots mounted on our overloaded, overnight backpacks. And the effort felt just as hard on the way out. The snow wasn't great either.
But the weather was as beautiful as forecasted, and there were no people around. So even though we only found mediocre skiing, we were thrilled to check three new summits off our list. And after a long winter, it was also nice to be camping.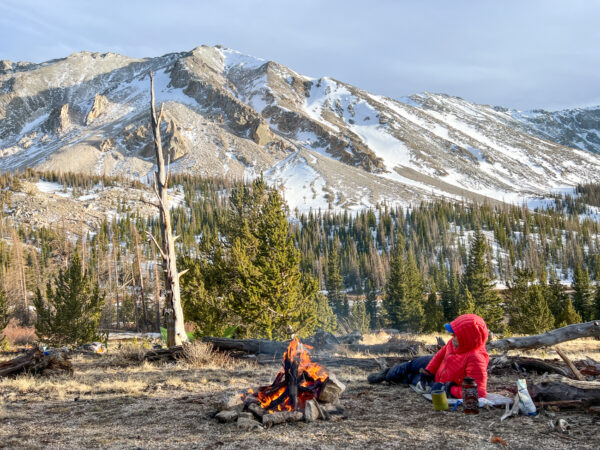 We made it back to Aspen on Sunday night, thoroughly exhausted but happy. In the end, it was so much more than a backcountry ski outing. It was a road trip that included a night in Leadville and dinner afterward in Buena Vista, a considerable physical effort, a fun night sleeping outside, and our first campfire of the season! Looking back, skiing the new 13ers was almost a minor detail.
And now we have a good picture of the snow conditions in the Sawatch and Sangre mountains. Unfortunately, unless more weather is on the way, the snow in this region will go fast, and we'll have to focus elsewhere. That's alright. We have a long list to work with and plenty of options.