A five-day ski traverse through the Urner Alps of Switzerland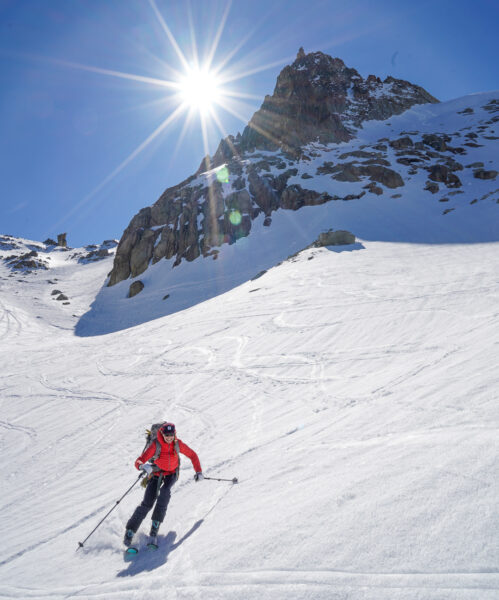 "Where are you from?" asked the skier with a Swiss-German accent. It was a familiar question at this point. We were three days into a five-day ski outing through the Swiss Alps — known as the Urner Traverse — and had yet to encounter another American. Our American English accents stood out whenever we spoke, and locals were naturally curious.
The Urner Traverse follows a circuitous route through the Urner Alps of Central Switzerland for about 40 miles, connecting the two Swiss ski towns of Andermatt and Engelberg. It's similar in layout to the famous Haute Route, which connects Chamonix and Zermatt. But the Urner hasn't drawn the same attention of the international crowd, so it offers a slightly different experience.
Compared to other more popular Alps traverses, there are fewer guided groups, fewer Americans and non-Europeans, and a more local feel. But that wasn't the only factor that led us here. The Urner Alps often receive more snow than other regions of the Alps, and this season was no exception. The tour is also a favorite among the Swiss due to the numerous nearby summits to climb and ski as you move along the route, making it even more appealing.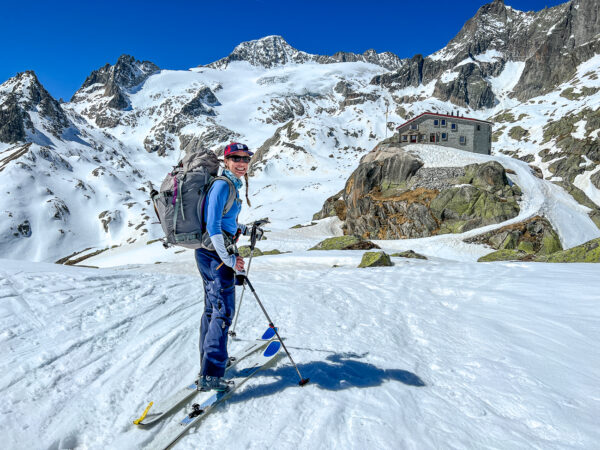 My wife and I first caught the bug for this style of ski trip after an early foray on the Haute Route back in 2004. We've since done several different traverses across the greater Alps region, though this spring's trip was our first overseas since the pandemic began. The mountains are beautiful, and it's fun to move from town-to-town on skis. But what got us hooked was the hut experience and amenities that made the adventure so enjoyable.
Unlike the huts we have here in Colorado, Europe's counterparts are larger — sometimes with a capacity of 100 guests or more. They're also typically staffed, and that team will prepare breakfast and dinner. They offer a la carte lunch options for your day on the trail, and they even sell beer and wine.
That's very convenient after a long day. It also translates to a much lighter backpack since you don't need to carry multiple days of provisions for your trip.
You can book individual bunks or private rooms, which include bedding. Leave your sleeping bag at home. A silk sheet is all you need. The bathrooms are often a step up from Colorado's outhouses, sometimes even offering a proper shower. You might even find a hot tub or sauna available at certain huts.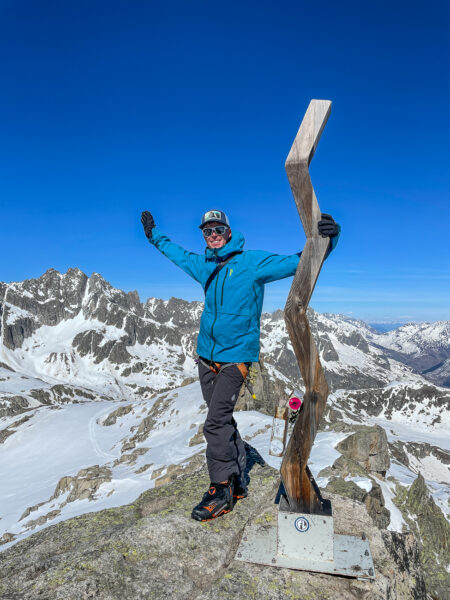 You'll still need your backcountry ski kit, clothing, and personal items. But with the hut's food, water, and other provisions, your pack might only weigh 25-30 pounds — pleasantly light for multi-day ski adventures in the mountains.
After a day skiing at the resort in Andermatt, shaking off our jet lag, it was time to start. We loaded our packs and shipped our luggage to Engelberg via train, where they were stored until we arrived. What a service.
From Andermatt, a 10-minute train ride brought us to our starting point in the small town of Realp. Spring had arrived early, and the valley snow had melted. So our adventure began with a short walk up the Furka Pass Road, which was made famous in the James Bond movie "Goldfinger." Before long, we were on the snow and skinning to the Albert Heim Hut.
A member of the hut staff, referred to as a guardian, greeted us when we arrived. She offered a run-down of everything— the gear room, drying room, bathrooms, our bunks, the scheduled dinner time, quiet hours, etc. We dropped some gear, repacked for skiing, and headed out for an afternoon tour. An hour later, we were on our first summit of the trip, Chli Bielenhorn.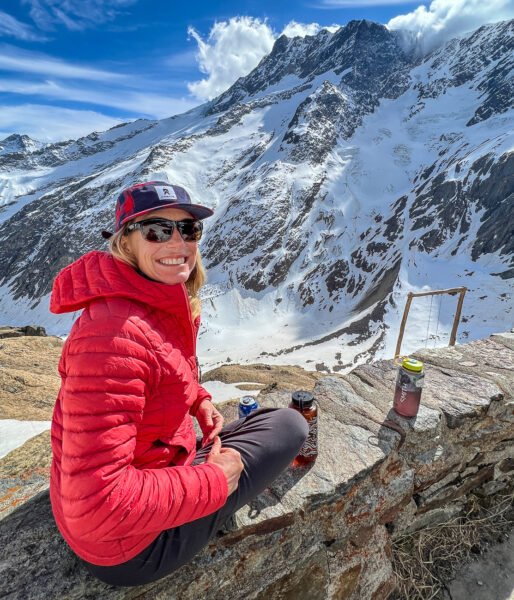 The snow was well into the spring cycle, and the conditions on our afternoon tour were representative of what we would experience for the entire trip— frozen snow in the morning and corn skiing in the afternoon.
After a slushy descent, we were on the deck of the recently renovated, 100-year-old stone hut, having a beer, watching the sunset, and adjusting to the new setting and routine.
For the next several days, we settled further into that routine. We were up early each morning, around 6 or 7 a.m., having breakfast, packing our gear, and prepping to ski. We usually departed the hut around 7:30, alongside other small groups also aiming to ski to Engelberg.
The ski tour always began with a stout climb to a high pass or col. Then, if the weather was favorable, there was usually an option to climb a summit or two. A long descent usually followed, and by early afternoon we would reach our destination for the night.
We spent the afternoons getting situated, drying out our skins and boot liners, and changing from our skiwear into our more comfortable hut clothes. After that, there was usually ample time to relax, have a beer, journal, read, plan for the following day, chat with other groups, etc.
As the days went on, the rhythm of the trip took over. We adjusted to skiing with weight on our backs, and our pace and movement became increasingly comfortable and efficient.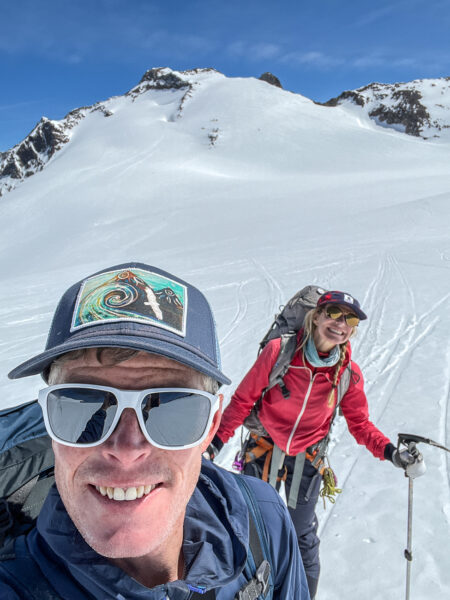 We also got to know the others traversing with us. The two Swedes from Stockholm were relaxed and often laughing about something. Two younger German buddies always started early with their sights set on significant ski objectives. Not far behind them each day were two college students and aspiring guides from near Geneva. They were always upbeat and excited. The Urner was their first Alps ski traverse.
There was also a second group of Swedes, two couples. Like us, they had plenty of years under their belts and were quite casual in their pace and attitude— treating it like a vacation, much like we were.
You might overhear four or five languages in conversations in the dining room at any particular moment. Yet everyone also spoke English to some extent, and there were always questions about skiing in Colorado.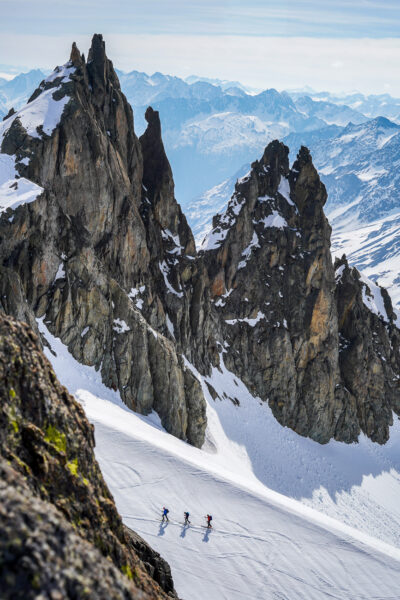 We crossed cols and summited peaks with foreign names like the Winterlücke, Lochberg, Fünffingerstöck, and the Sustenhorn, which— at 3,502 meters (11,490 feet) — was the high point of the trip.
On the morning of the fifth day, we left the Sustli Hut and ascended a peak called Grassen. Two thousand meters below, we could see the lush, green valley that led to Engelberg, our final destination. We took some pictures and said our farewells to everyone. After this descent, we would all go our separate ways.
Christy and I stayed on the summit of Grassen for a while, taking it all in, watching the others ski down, each group at their own pace. We were grateful for the five days of beautiful weather, without which we might not have been able to complete this whole route successfully. The favorable conditions also allowed us to climb nearby peaks every day along the way— six new summits in all.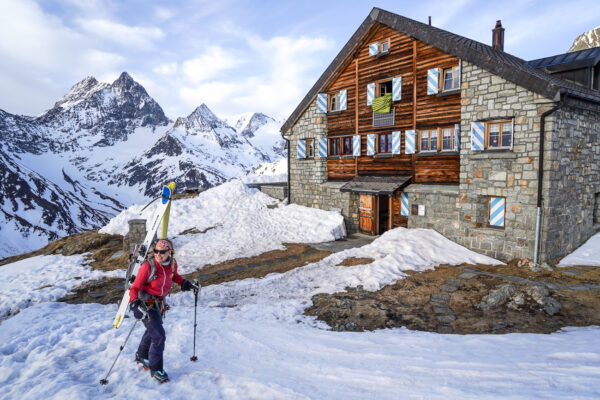 All that remained was nearly 4,500 vertical feet of skiing. We took our time, enjoying the corn snow, which continually improved the further we descended. When we reached the end of the snow, a short bit above the valley floor, we continued on foot.
There was a lot to process as we hiked down to the valley floor through the postcard-like vibrant green Swiss mountainside.
What a fun way to arrive in a new town. What a memorable adventure to wind down the ski season. But the top thought that crossed our minds— after a couple of years of restricted travel, we were back on a faraway ski adventure, which felt good.