The Boys from Cali – the Sierra Slayers
(More catching up- this from April 28th and 29th)
All Chris Davenport said was that two of his friends, who get after it around Tahoe and the Sierras, were coming to town and looking to ski, and that they were going to call Neal and me. Oh and one more thing, they crushed him (Chris) on Mount Williamson, a 14er in California, last month. Hmm, that's something you don't hear often. Who are these guys? Chris sold them on the idea of heading to Aspen to ski some of the local classics, and knowing Chris we can all guess what made up the list.
First they put together what they considered a 'casual' warmup day. They skied Hayden's Northwest Couloir and pushed out of Conundrum Creek, hitching a ride to then catch a lift at Highlands and get an afternoon Five Fingers run and still get back in time for some beers at apres. The next morning (while we were on Willow) they executed a four hour round trip assault on nearby North Maroon, declaring it the 'easiest 14er they had ever done', and decided Pyramid was next. I felt it my duty to show this duo around and even though I had already skied Pyramid's East Face before, the decision was easy. We met the next morning around four.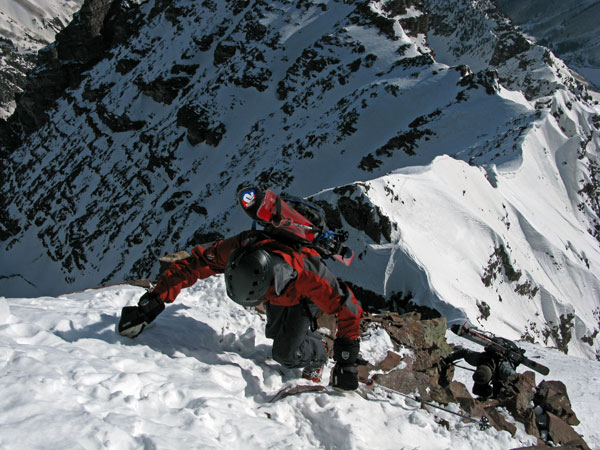 It turns out local Jim Funsten and friends skied up here earlier in the week(his 2nd descent) and left a stairway to heaven. It's amazing how much easier it is that way.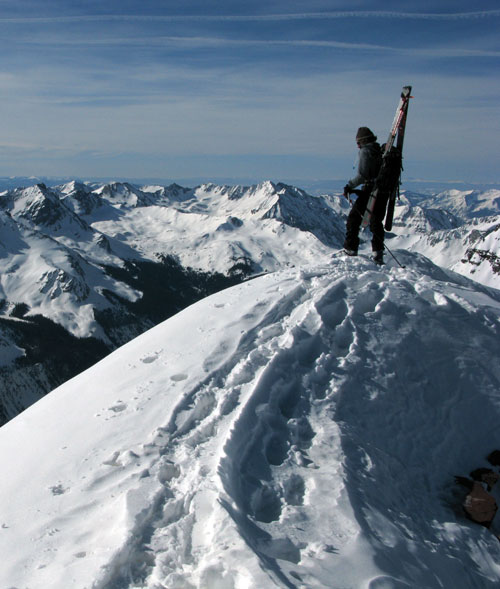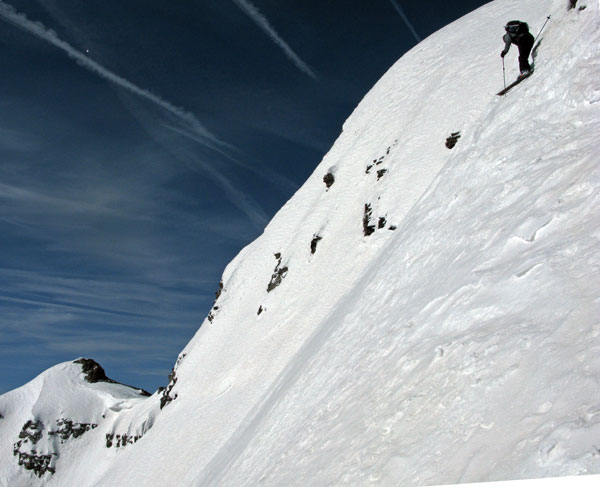 Right off the top it's steep (more on this below).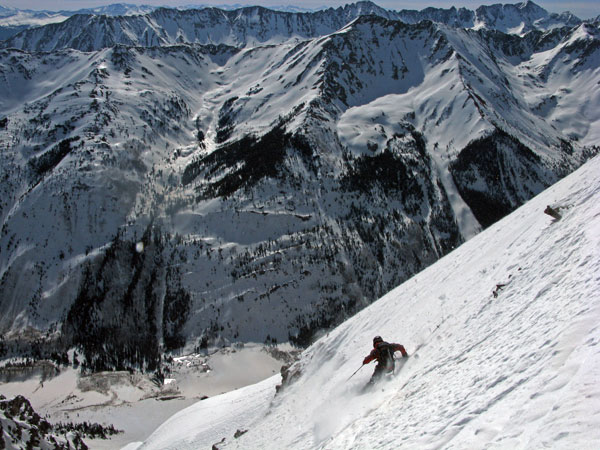 After skiing out East Maroon Creek, we had to skin back up the road in order to get the snowmobile we rode in the morning. Eight hours from car to car and we were at the J-Bar for burgers at 12:30. Crazy, I thought, especially considering one of the guys had just mounted a new pair of Dynafit skis the afternoon before and decided that off the summit of Pyramid would be a good place to try them out.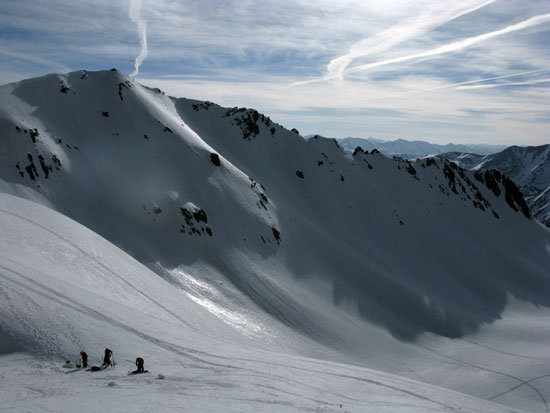 These guys wanted to check out Castle Peak next, so I decided to get some friends in and called Chris Carmichael and Sean Shean to plan, arrange sleds, etc. We figured we'd leave a full hour early so as not to be to far behind the boys from Cali. It timed out well as we were all together at the base of the east Face. Here we are switching to crampons.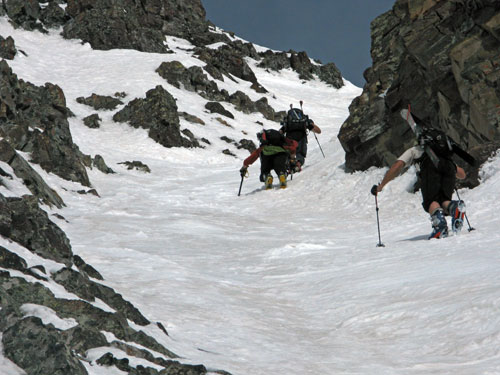 Another 'booter' in place, and the climbing challenges were reduced to a stairmaster workout.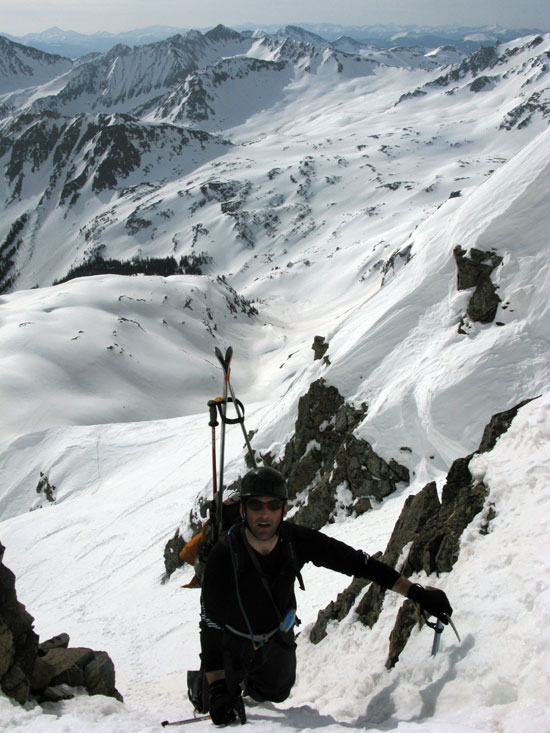 Castle Peak's East Face is one of Chris Carmichael's favorites.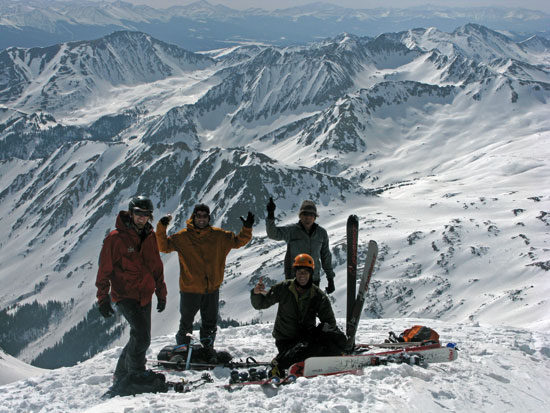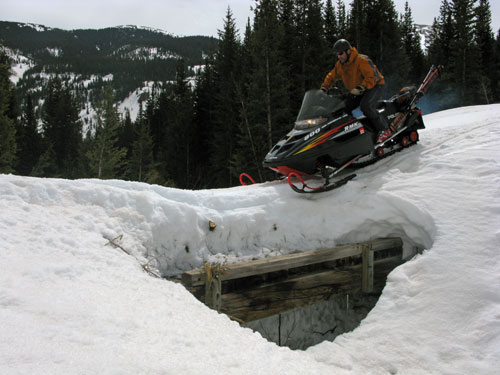 I managed some good shots hanging up top and very few skiing. Once the guys from Cali were ready to ski they dropped in and were at the bottom in about 30 seconds, GS turns the whole way and no time for pics! Sean summed it up, stating the obvious, "ted, these guys don't f— around!", after clicking into his skis and noticing they were already all the way down.
The crux of the day was getting the sleds over the skinny footbridge.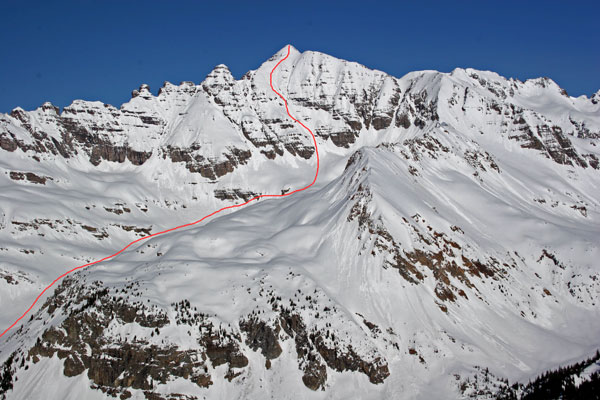 The line as seen from neighboring Mace Peak. Once down, Sean offered up his usual hospitality and put together a huge breakfast for the four of us at his cabin, down in Ashcroft, thanks Sean!
Glen Poulson and John Morrison had a great time and headed to Moab later that day. The four day run they put together onsight was impressive by any standard. It was really fun to have these guys around. For two guys with huge experience and who know what's good, there's a lot to show off around here. Maybe someday they can return the favor.