Route: Southeast Face
Partners: Christy, Dirk Bockelmann
Saturday's ski of North Maroon was super-smooth. Maybe we should go for South Maroon too?  We all felt some momentum from the day so by the time we left the tailgate at Maroon Lake after North, Christy and Dirk were up for coming along on South tomorrow.
With a favorable report from the 9+ people who skied its slopes on Saturday we figured all we needed was to rally some tired legs.
We planned to ascend the Bell Cord Couloir, summit and ski the east/southeast, following Chris Davenport's line from February 2006. Some people skied the line the day before and said it was good, though really steep. Christy thought it sounded like fun. Here she is a few steps below the top of the Bell Cord.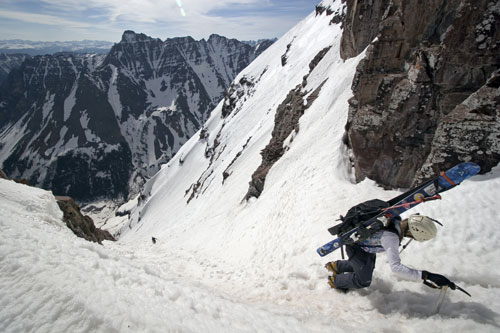 Gaining the summit from the Bell Cord is the hardest part of the climb, the angles steepen and all route variations require some travel on loose Maroon Bells rock.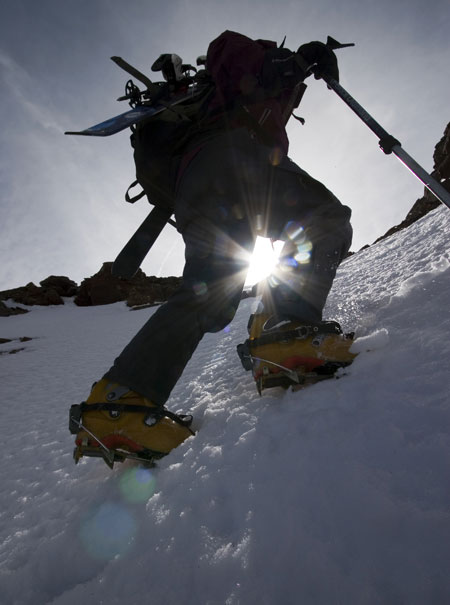 Employing three different methods to get through an upper cliff band, we made our way into the couloir proper and descended quickly as the temperature was rising fast. At one point Christy caught an ice "brick" square on the head and was completely spared by her helmet. Soon after, a second icy curtain broke a little lower down. In the end it was the tired legs from the day before that put us in a precarious spot, we should have been up there earlier.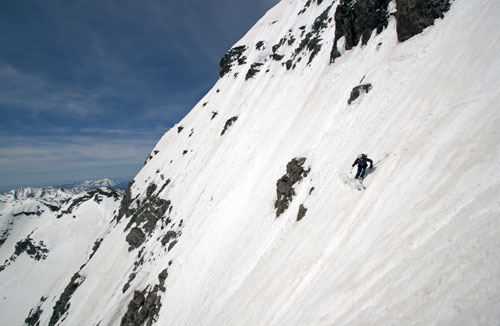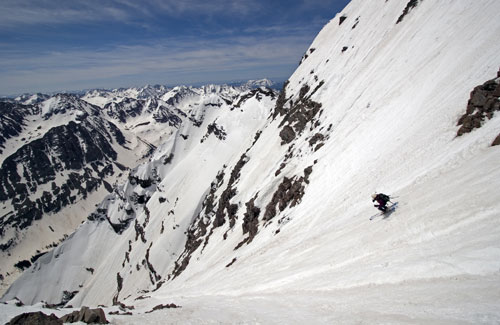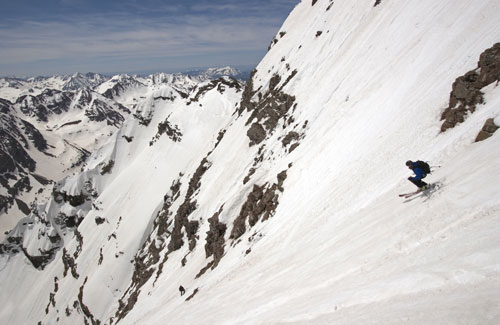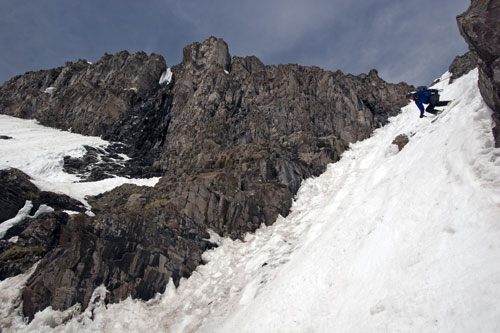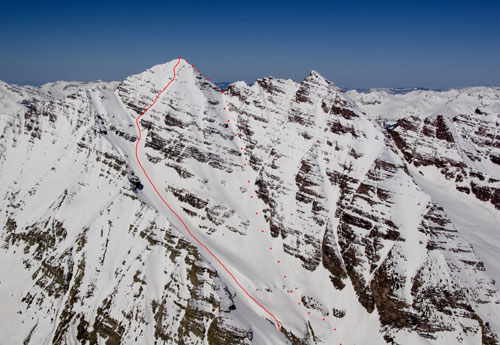 Climbing route (dots) and ski line in red. It's a cool tour of the mountain.
And with this descent I've skied all six Elk Range 14ers in a single season, a feat first completed by Davenport in 2006. If there was a year to try for it I think 2008 was it. More on the topic later, after the Lincoln Creek Road opens and I can get into Grizzly Peak.