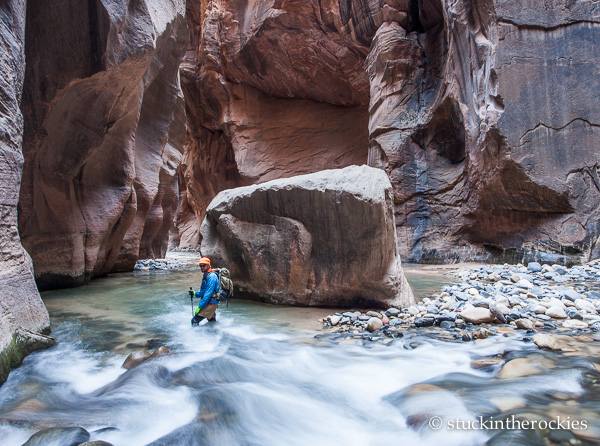 The Zion Narrows– where the Virgin River cuts deep into the sandstone as it makes it way into Zion National Park.
The Zion Narrows is a wet outing, you basically spend the whole time hiking the flowing river. One way to do it is to follow it downstream from its start outside the park over two days. That requires a permit, and is quite long. It finishes at the end of the Scenic Drive inside the park.
Another option is to start from the finish of the Scenic Drive and do it as a single day out-and-back. Hike upstream as far as you like, and turn back when you decide you've spent enough time in the cold water and shade. That may sound less exciting than the first option, but since the deepest, narrowest cuts of the canyon are at its bottom, this latter approach allows you to see the best parts of the canyon with a much lighter pack. And it doesn't require a pernit.
That's what we did. Since it's cold this time of year, wetsuits, booties, drybags, and river shoes were all appreciated. We found ourselves in waist deep water on many occasions. Other times it was even deeper.
And that's the Zion Narrows. Check it out.