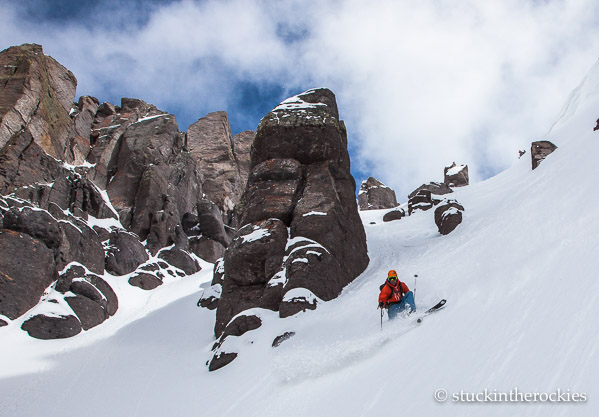 Potosi Peak, 13,786 feet, is at the east end of the Sneffels Range. Its flat summit is unique for the area and stands out when seen among a sea of jagged San Juan peaks. From most vantage points it would appear that skiing from the summit wouldn't be possible, but somewhat hidden from view is a steep, north-facing couloir, one that is pretty tough to get to, but well worth the trip.
Christy and I first saw the North Couloir when we climbed nearby Teakettle Mountain back in 2004. Even though it was mid-summer, we recognized its potential for skiing. Two years ago when we returned to ski Teakettle as part of our Centennial Ski Project (read here), we caught a good glimpse of the snow-filled couloir, and we decided we had to get back there to ski someday.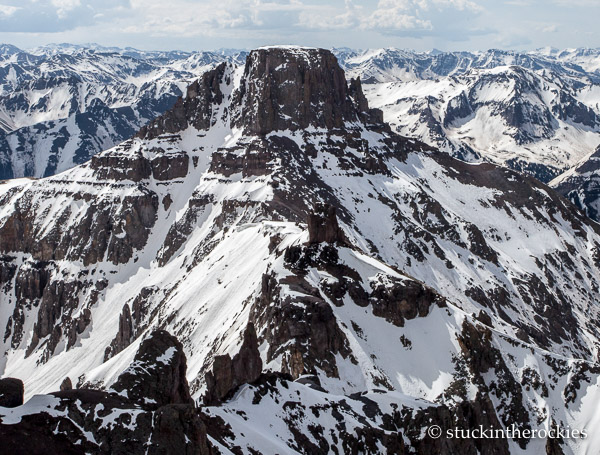 Christy, Joey and I went to Potosi last weekend.
Skiing Potosi is a little more complicated than you would expect. The north side of the mountain isn't practical for a direct approach. Skiers have to start on the south side, high in Yankee Boy Basin, and go up and over a saddle to access the north side and the couloir. Unfortunately for us last weekend, the road was closed four miles below the Yankee Boy TH. The nearby mine has locked the gate (even though it's plowed) so our day began with a long walk up the Camp Bird Mine Road, skis and boots mounted to our packs. Christy said the added eight roundtrip miles served as good training. You've got to love her take on things.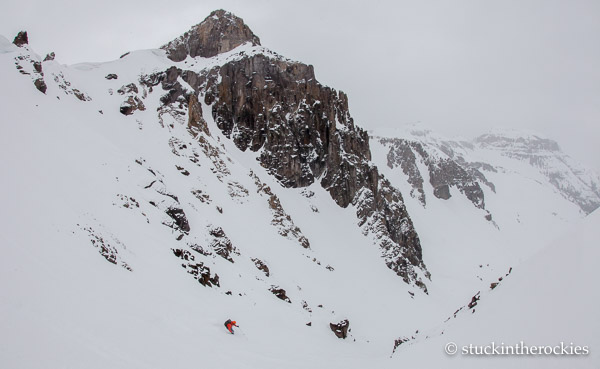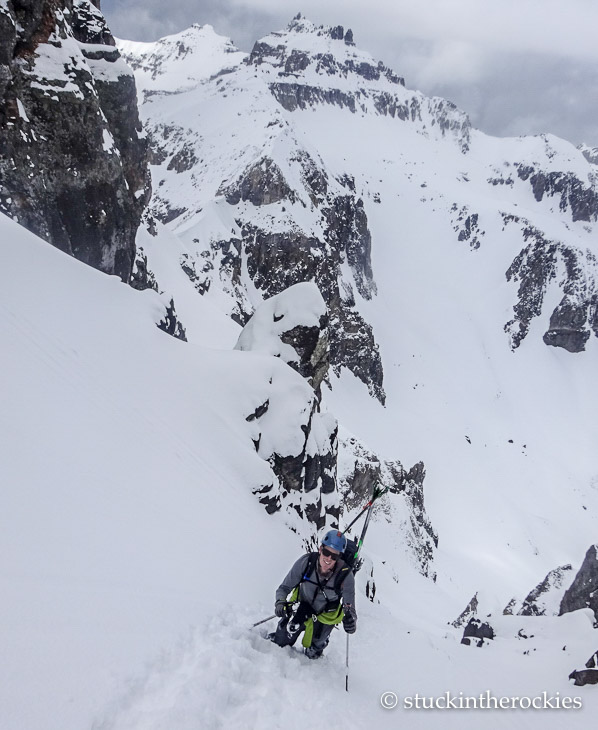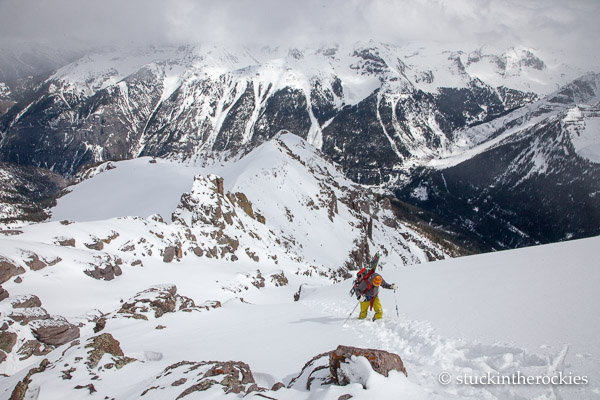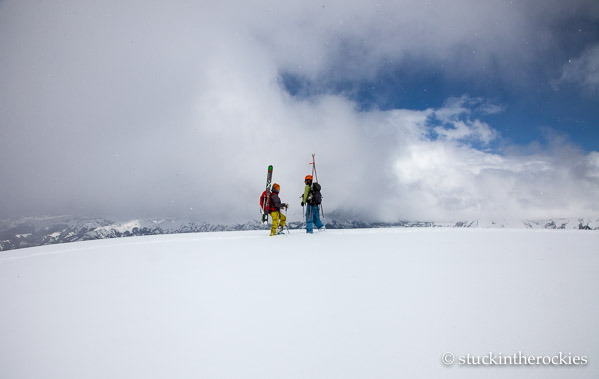 After we reached the usual starting point in Yankee Boy Basin, we began climbing up a prominent gully on the south side. After negotiating an unexpected frozen ice section, we made it up to the 13,100 foot saddle between Coffeepot and Potosi peaks. From the saddle we slipped between a couple of cornices and skied a line to the north for about 500 feet, which put us at the base of the couloir. From there it was about 1200 vertical feet up to a small col, where another snowy ramp wrapped around the back and up to the distinctive flat summit. The return trip required we retrace our route entirely, so we had three climbs and three descents through the day.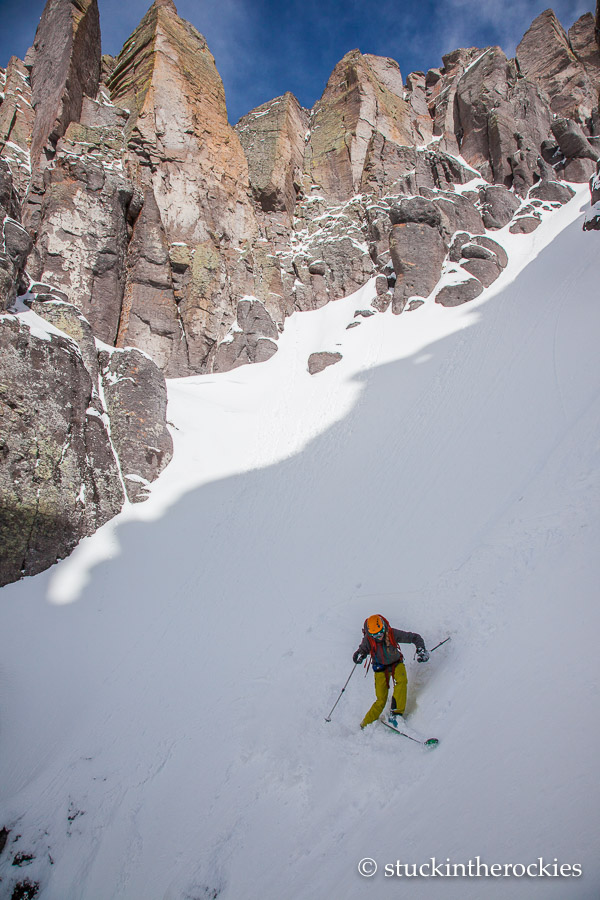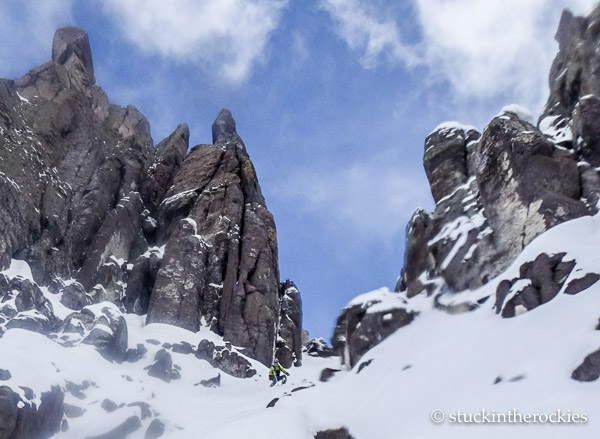 We were impressed with the amount of snow the recent storms had deposited in the couloir. It was tiring work on the ascent but it made for really fun skiing. And our timing worked out really well, most of the day was spent in mixed spring weather, but while we were on the summit and then skiing, the clouds were a bit broken up and we actually caught some sun and great views.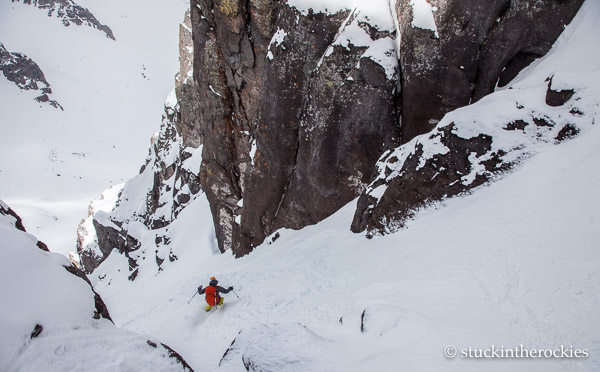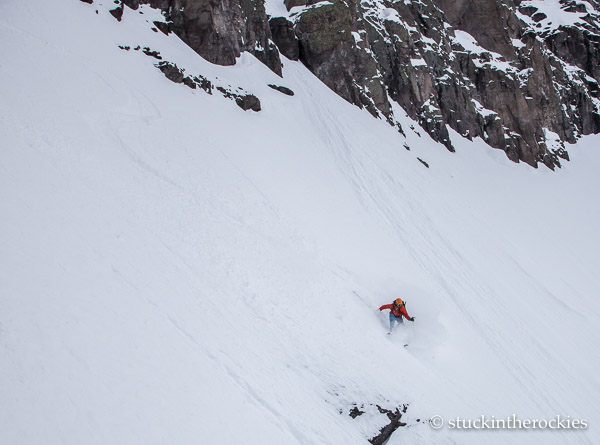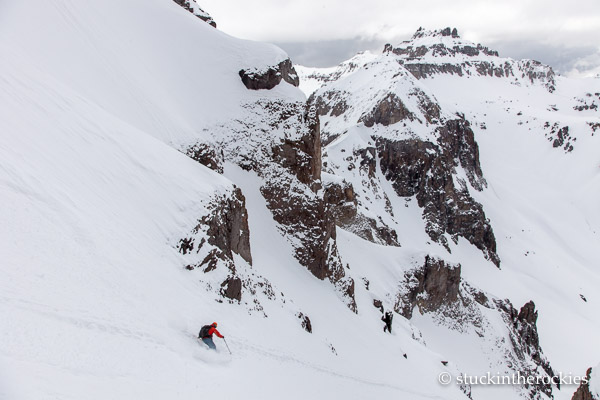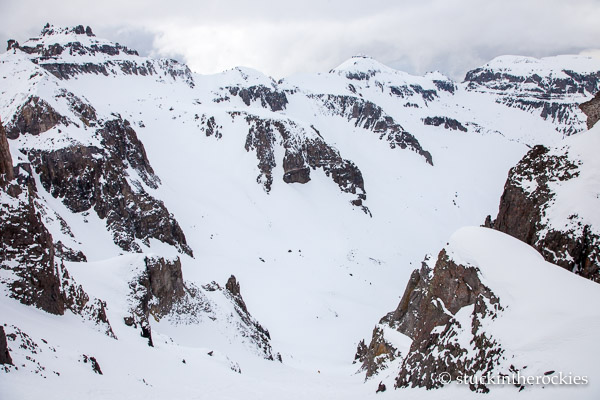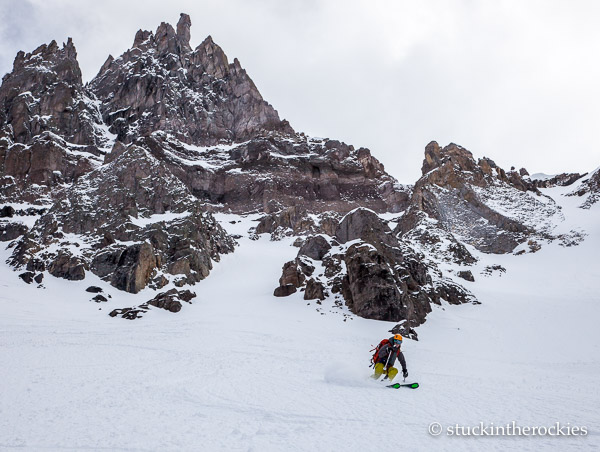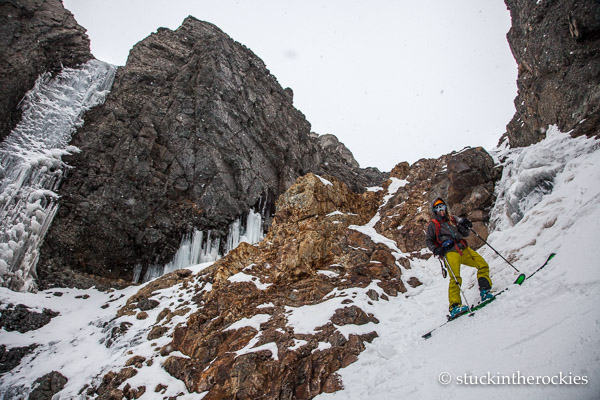 Potosi was a long, hard day which made it all the more rewarding to get done. Put it on your list, if it isn't already.
For more info on this peak- check out the Falcon Guide- Climbing and Skiing Colorado's Mountains