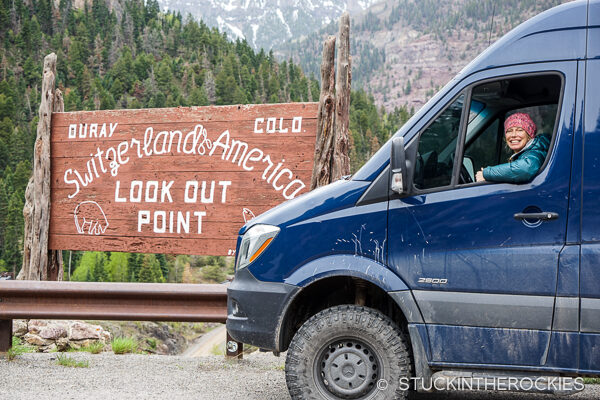 As a couple who spends nearly every weekend of the year adventuring, we've logged our fair share of time on the road and camping at trailheads. Of all of the vehicle options available these days, from RV to Subarus, we've always felt the pickup truck worked well for us. But we'd be lying if we didn't admit that the built out Sprinter-style vans have left us wondering if maybe there's something better than our trusty Tacoma.
Enter Aspen Custom Vans, a local company owned by some friends who not only build out vans for customers, but also "lease" out a few of their own for short term use. Through the website Outdoorsy, we were able to book their Mercedes-Benz Sprinter, named "Blue," to take us on a weekend spring ski adventure down in the San Juans.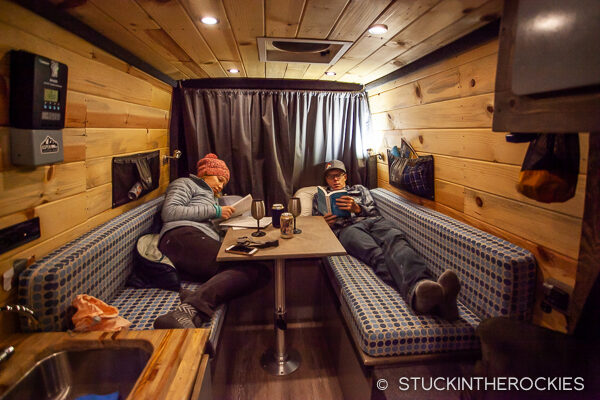 It was our first #vanlife experience and we were pleasantly surprised. We love our truck and are used to the car-camping routine, but when you consider some of the perks of a Sprinter van like Blue, it definitely impressed us.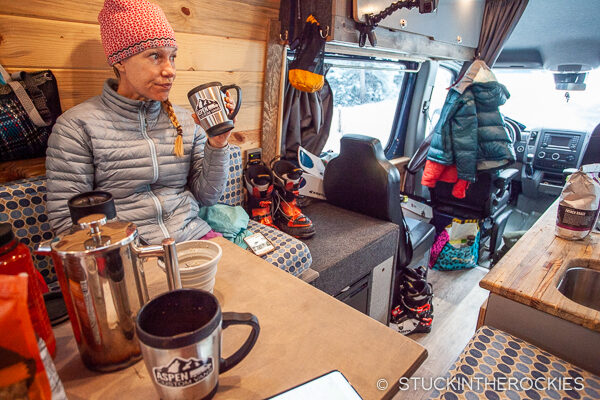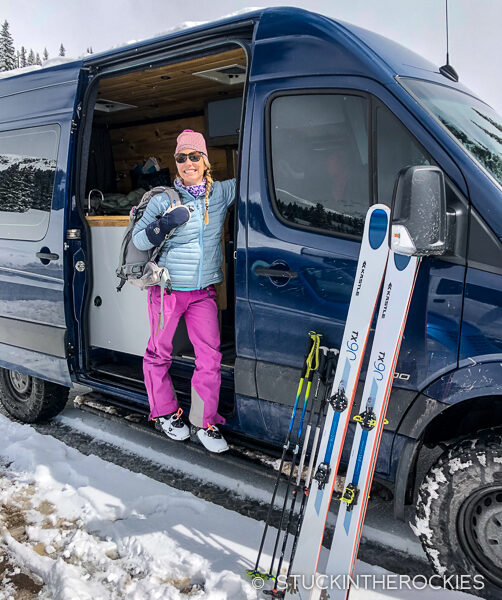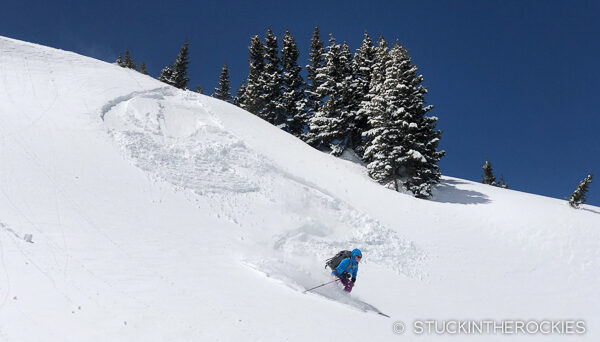 As for some of the features Blue offered that you won't have in a pickup truck:
2 burner gas range
Kitchen sink with electric water pump
Refrigerator
Indoor lights
Dining table that collapses into a bed for two
Indoor heater
Ceiling fans and vents
Rooftop solar panels for battery charging
USB chargers throughout the cabin
Blackout drapes for privacy
Tons of space!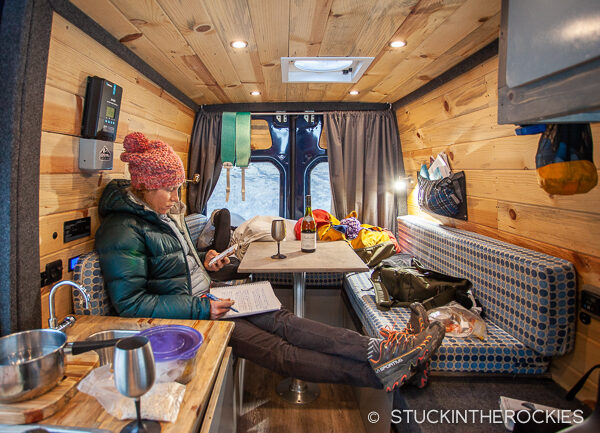 In a lot of ways, basing out of the van felt a lot like traveling on a sailboat. A Sprinter van is roomy enough to be comfortable, but you still need to be mindful of space and keep things organized and tidy. When you hit the road you need to make sure everything is stowed away properly. You don't want to lose your bag of granola all over the floor after taking on a bumpy jeep road or a winding highway like Red Mountain Pass.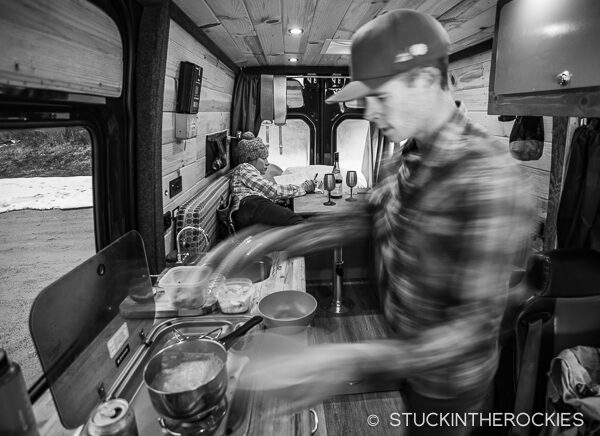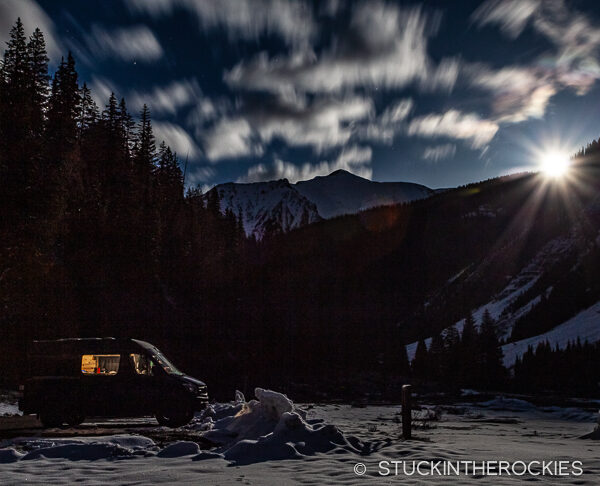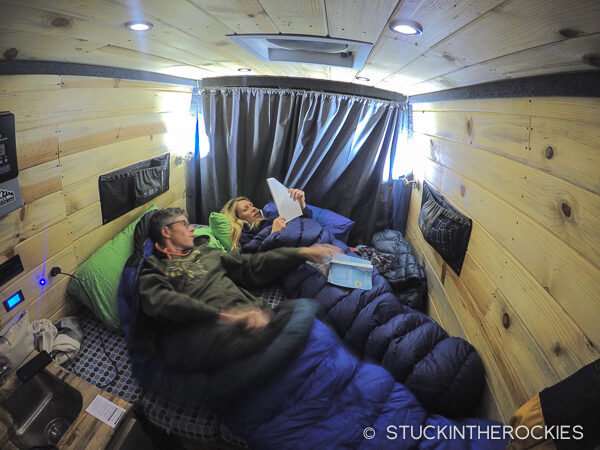 The high-clearance 4wd made dirt road approaches to the trailheads real easy. This model van is 19 feet in length, it's longer than a typical truck but it had a crazy-small turn radius that made it easy to maneuver. It's also about 11 feet tall so it was no problem to stand up inside. And one of the best features, especially for a trip to cold, snowy trailheads, is that it had a thermostat managed heater that ran quietly on the solar battery all night. The inside of the van was warm all the way through to the morning.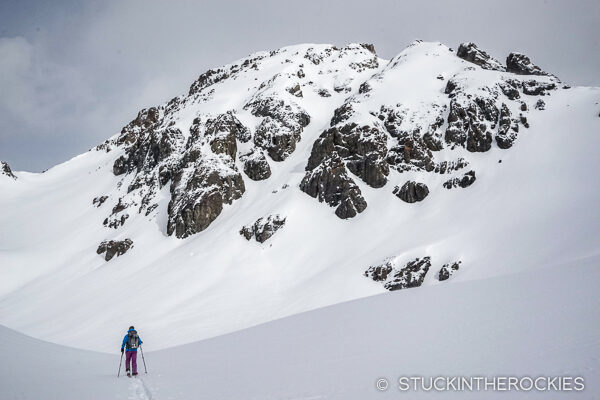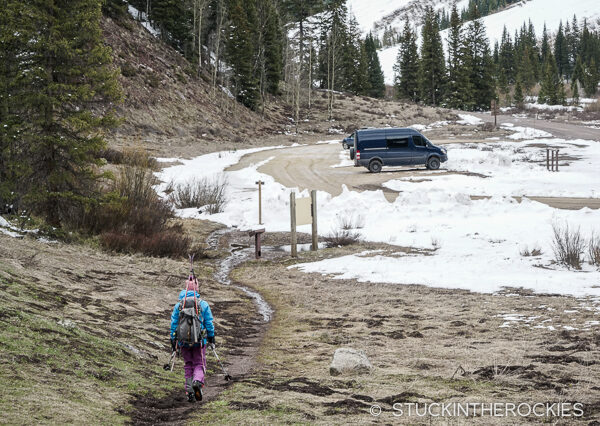 We might not recommend taking it up some of the more technical mountain jeep roads, for those trailheads we'll stick to the Tacoma, but for your typical Colorado adventures a vehicle like Blue is just perfect. I can't say for sure but there may be a van like Blue in our future.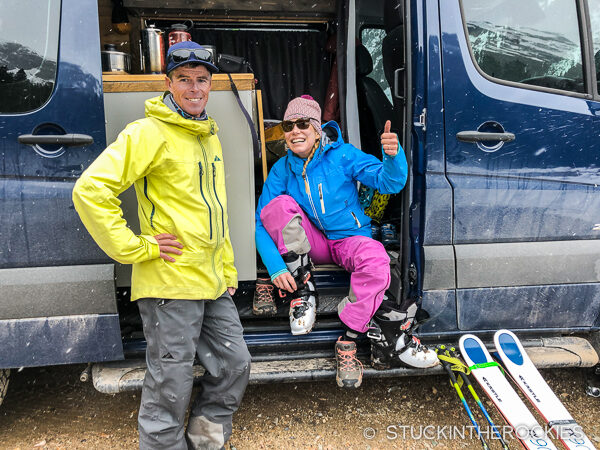 Check out the link to Aspen Custom Vans here. And if you want more info on Blue and how to book it, go to the Outdoorsy website here.