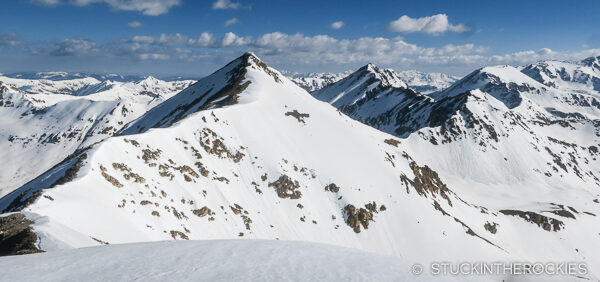 The 2019 ski season continues. Now that Independence Pass has opened, we decided to head to two high 13ers near the top of the Pass– Mount Champion and UN13736.
These two summits are located in a region dense with 13ers, and are connected by a high ridge which makes doing them together pretty straightforward.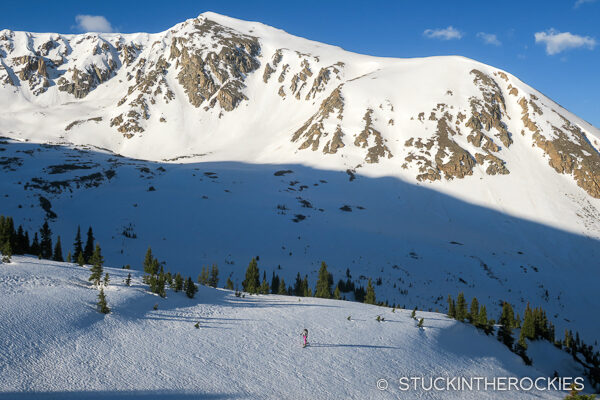 The trailhead is at the low hairpin on the Twin Lakes side of Independence Pass, at a pullout used to access the North Fork of Lake Creek. Normally it's a dirt parking lot but this year it was completely buried in snow and avalanche debris. That was actually a blessing, since all that snow gave us ample snowbridge options across the high-flowing creek. On other years crossing that creek could be the crux of the day.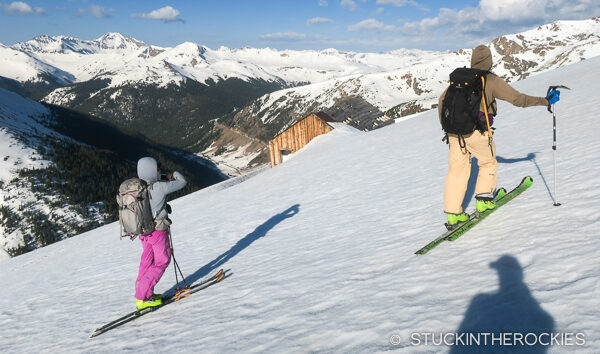 We made our way up the valley and the turned east up Lackawanna Creek. After a steep skinning section we were cresting treeline between Mount Champion and Lackawanna and it was easy skinning to the old remnants of the Champion Mill. It's always impressive to see how well these structures hold up after so many years in the brutal elements.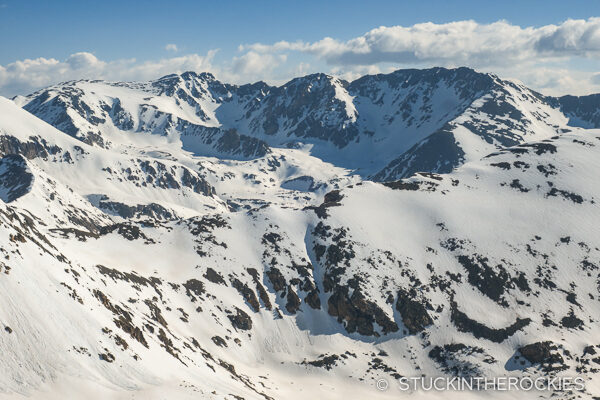 About 30 minutes above the Mill we were on the summit of Champion. Looking northeast we could see Mount Massive, French Mountain, and Oklahoma. A sunny ski line dropped down below us towards those peaks.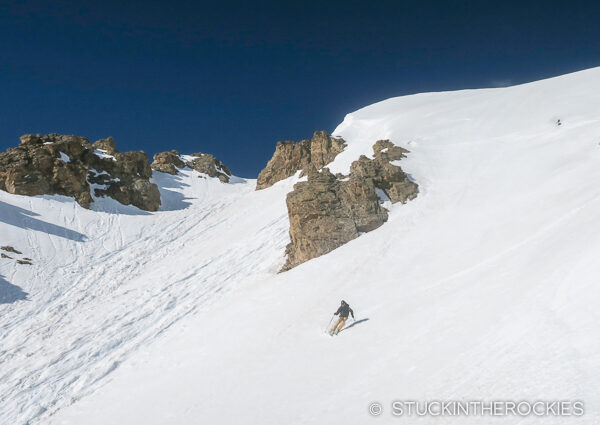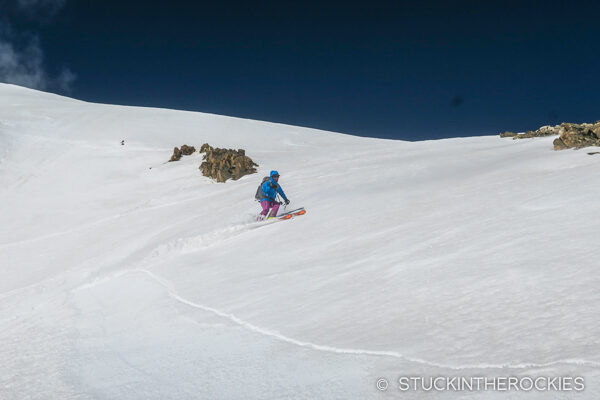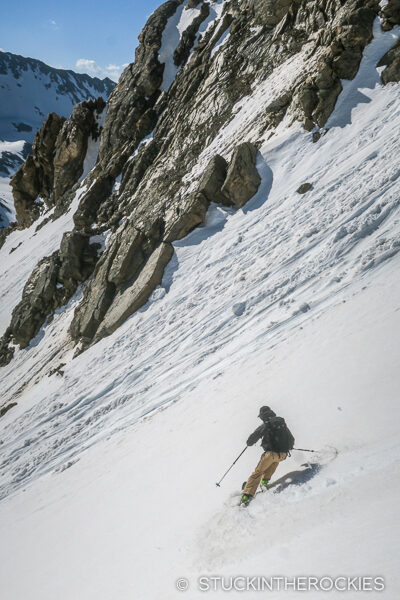 We skied the June snow down into the valley and we put our skins back on.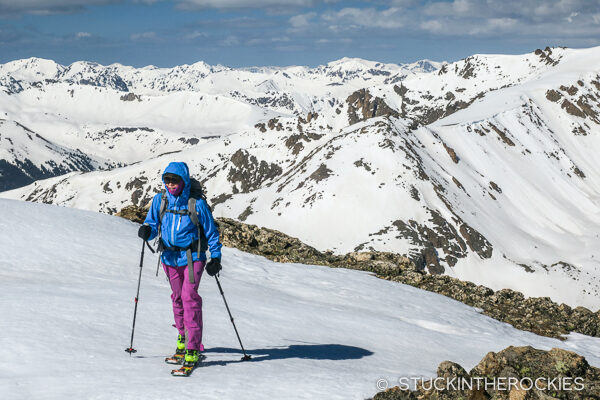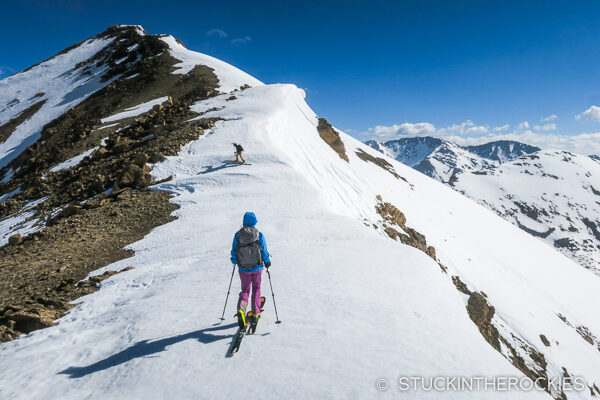 Back up to the ridge we went, gaining it a bit north of our ski line from Champion. We skinned and booted the ridge to the summit of Unnamed 13736, another Bicentennial Peak. From there a pretty aesthetic north face presents quite a few ski options.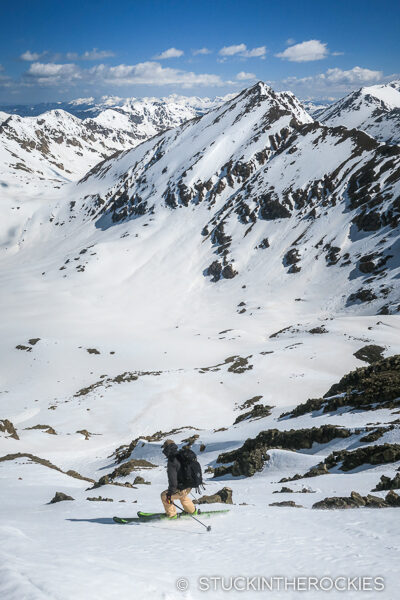 Surprisingly, the snow was still really hard. Even though we were into June, the temperatures have stayed quite chilly. Rather than wait up on the windy summit, we opted to ski frozen corn snow back down to the valley below.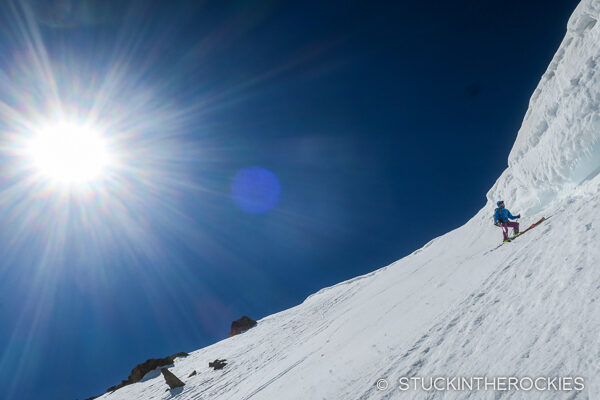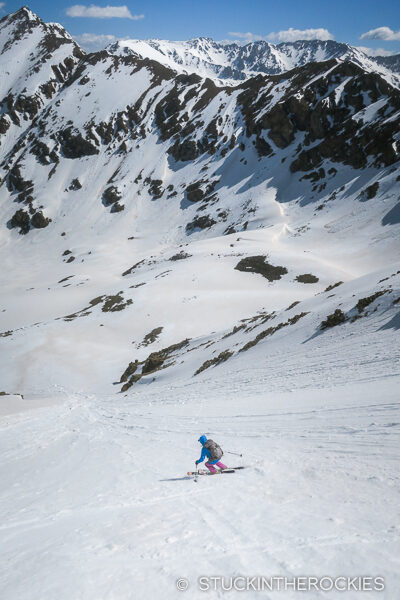 It was fun. To our north was Deer Mountain, and to our west, Twining Peak (indicated as "Blue" on some USGS maps). We followed the valley back to the trailhead.
A twofer in June? When is this season going to end?