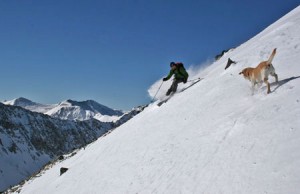 Route: South Couloirs
Team: Ted, Chris Davenport
Sometime in the fall of 2005 I first heard of Chris Davenport's plan to ski all the 14ers in a year. Opinions on the subject ranged from incredibly ambitious and cool, to completely impossible. Having some knowledge of what his plans required, my opinion fell somewhere in the "let's be realistic" middle, although I knew Chris enough to know to give him the benefit of the doubt. It wouldn't be easy.
It was cool to be involved early on. I find many people don't understand ski mountaineering and what it is all about. So now, after forty or so ski descents and nearly 200 14er summits, I had another partner in addition to Christy that I could share ideas with about this relatively obscure game. Chris had lots of questions in the beginning, about trailheads and access, ski lines both proven and otherwise, strategy for meeting the years goals, etc. It was fun to talk.
We met up for Quandary Peak first. On an awesome day by any standard, especially for Summit County in January, we hiked the East Ridge w/ Horton (like 2005) and made real good time to the summit. As usual the skiing was fun. We chose a couloir on the south face to the east of the Cristo Couloir. It was easy to ski from the top and while the snow showed signs of wind affect it skied fine and with no crust. With Horton in tow, we were back at the trucks quickly.
It was on the drive home I realized Chris's whole project could be really cool and I immediately started looking forward to the next peak with the new partner. It would be two months before we hooked up again for Mount Sherman.