San Juan Ski Weekend – Day 2
We were up early. The forecast called for a beautiful spring day and with a goal to ski Handies Peak(14,048 ft.) from the east we knew we had to stay ahead of the sun. In 1999 I skied here from the American Basin/west side of the mountain and was eager to return, trying for the more exciting east side. There's a great couloir(NE) that drops almost directly off the summit that Christy and I were psyched to give a go.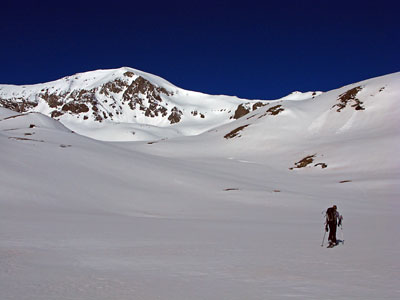 As Christy nears the top you can see the plow clearing the road up to Cinnamon Pass. From the summit you could also see another plow working our way from the Silverton side.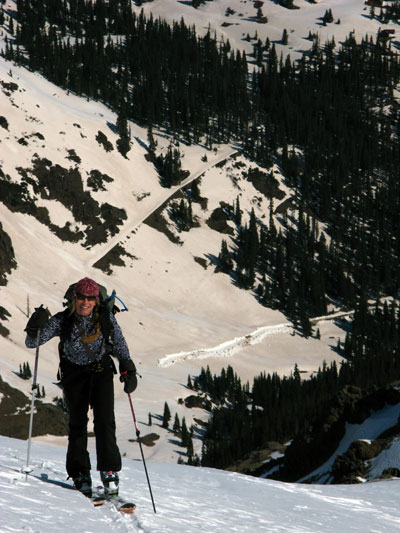 From the summit we were able to see Rio Grande Pyramid out in the distance(center of shot). We headed there later this afternoon, we estimated the trip would be twenty miles round trip but the ski should be worth it(foreshadowing).
Christy signs the summit register with the dramatic peaks of the Grenadier range and the Weminuche Wilderness behind.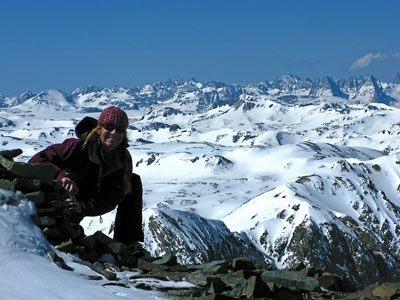 I was here most recently last July where the summit of Handies is the highpoint of the Hardrock 100 mile race. While snow is present on the course every year there looks to be more than usual, as expected(historical chart here). Looking out to the west I could make out several sections of the course(indicated), all of which seem to need a lot of time to melt out. Hopefully some warm dry weather settles in for a while or the race could be even more difficult than usual. Maybe we should just consider ourselves lucky if it doesn't get cancelled(I'm on the waitlist).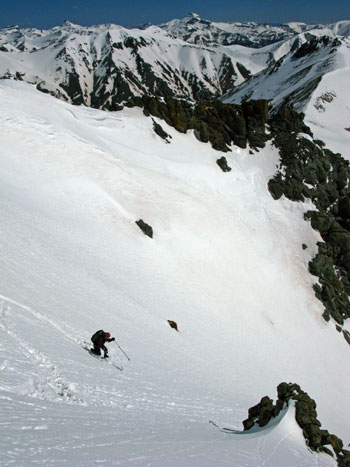 Christy in the Northeast Couloir which was still waiting for spring to arrive.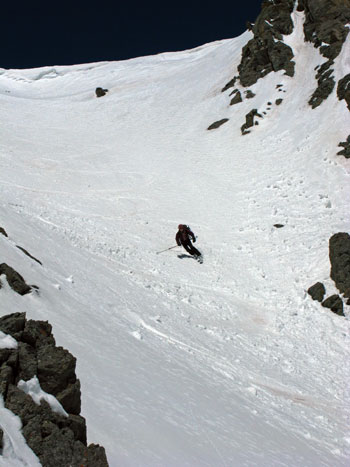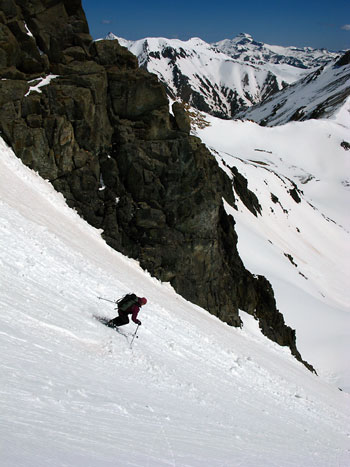 And out.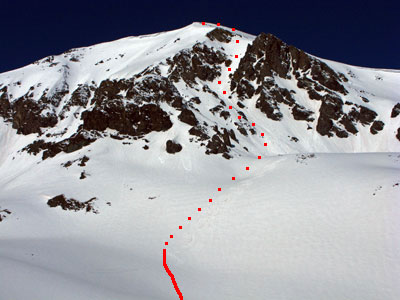 What a ski. This was #31 for Christy and took just over 4 hours to complete roundtrip. Good thing it was so quick because we had to get back to Lake City to try to fix Christy's tele binding and then hightail it towards Creede and get packing in to camp below Rio Grande Pyramid, the goal for the following day. This was going to be fun, we thought.
Christy and I will be back around these parts mid June for the Lake City 50 Miler, which like Hardrock, is hoping spring weather will arrive in force and get the extensive sections of course at or above 13,000 ft a bit more in condition for a running race. For the moment Christy and I will just keep skiing.