(just trying to have a little fun with this)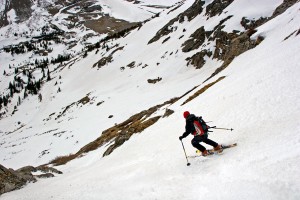 I've been sitting on this story for two weeks now, in hopes that a major news outlet in Reykjavik would be eager to cover something more upbeat than the dismal economic woes that have held their headlines hostage for months. Not surprisingly, there hasn't been much interest.  Here's how I envisioned the front page headline.
Icelanders Triumph on Quandary Peak
March 23, 2009- Blue Lakes, Colorado, USA. Native Icelanders Heidar Gudjonsson and Johannes Baldursson summited and skied America's mighty Quandary Peak, 4348 meters, last week. As part of a combined Icelandic/American team, along with Alden Edmonds of New York City and Dirk Bockelmann, Christy Sauer and Ted Mahon, all of Aspen, Colorado, the team reached the airy summit, the 12th highest in Colorado, sometime around 11:15 AM.
Descending through the thin air of the picturesque Rocky Mountain summit a short while after earned Baldursson and Gudjonsson a place in the history books as the first Icelanders to ever ski the 2nd gully east of the Cristo Couloir on the South side of the mountain in winter.*
(*this fact can not actually be verified and may be completely false)
What is fact is that a few personal high altitude records were set, (Joi and Alden) and it was a fun reunion. Having been fortunate to join these guys on some exotic adventures in the past, both to Greenland's highest peak and through the fiords of Northwest Iceland, it was time to show them what this 14er ski thing was all about.
Big thanks to Alden for putting it all together and a good effort to our viking friends, Heidar and Joi for traveling so far to be here. And sorry to Stefan for having to sit this one out back in Reykjavik. We should all throw back a shot of vodka in your honor. Skol!