The hump of the ski season upon us and spring is coming. Punxsutawny Phil thinks otherwise, after seeing his shadow he declared there to be six more weeks of winter– but apparently Staten Island Chuck (who? read here) says Phil's got it all wrong. After Christy and I opted to stay in bed this morning, rather than brave the negative double digit wind chill on our planned skin up Aspen Mountain, I thought I'd post some pics from warmer days, from our White Rim trip last fall.
As has been the case for years now, Jared and Diana secured the coveted permit required for the trip into Canyonlands National Park, but this year's loop around the White Rim wasn't always sure to happen. The recent addition of second baby girl to their family left the trip up in the air– Di was going to sit this one out and Jared couldn't decide if planning the trip this year was maybe a bit more than he wanted to take on.
Enter Jeremy Barbin, who kindly offered up his assistance to Jared in organizing the trip. What a nice guy to help you say? Well, as a result of Jeremy's swift and silent hijack of the permit for the annual desert retreat, the group this year was not the typical set of couples, friends and family but was instead a raucous lineup of 16 guys. And despite a collective 'roll of the eyes' by all of the spouses/girlfriends when the roster of trouble making weekend participants was made public, I think Jeremy still insists, at least to his wife Lisa, that it really was just a mellow mountain bike weekend for the guys. Nice work JB. Do you think they bought it?
And a parting shot– four images of Elaterite Butte in the Maze District as seen from the White Crack campsite during one sunset, over about twenty-five minutes time.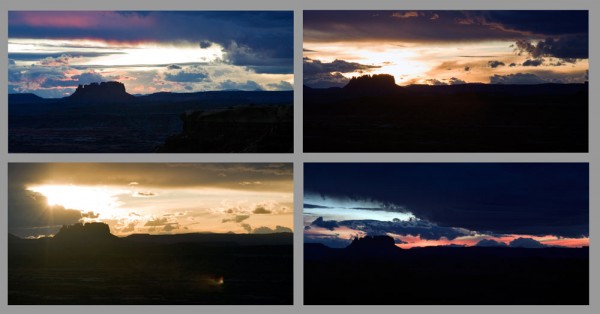 No offense JB, but hopefully next year Di's back in charge. I'm getting too old to keep up with the group pace, and I don't mean on the bike.