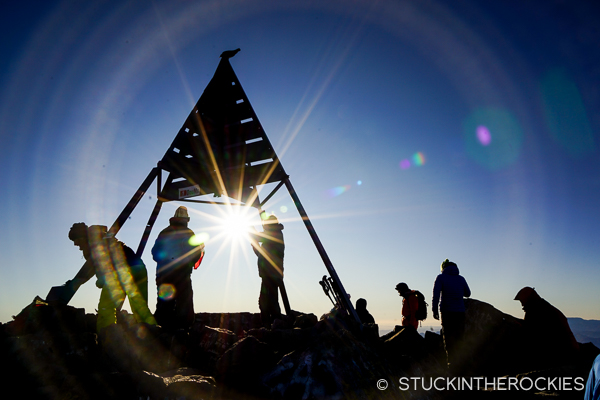 After three days skiing on Ayyachi and Maaskar, it was time to head to Jbel Toubkal. At 4167m/13671 ft. Toubkal is the tallest mountain in the High Atlas, in Morocco, and in all of North Africa.
Due to its status as the highest peak around, it's pretty popular for trekkers, climbers, and skiers. We had initially hoped to ski, and on most years the skiing on Toubkal is reported to be very good, but this year was exceptionally dry so we made plans to climb it on foot.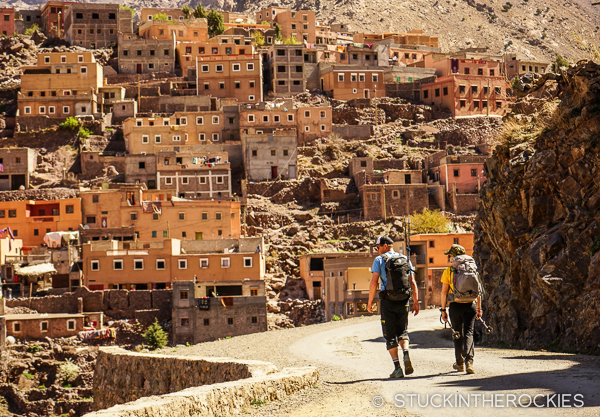 A climb of Toubkal typically begins from a small village named Imlil, about an hour and half drive from Marrakech. Most parties don't climb the mountain in a single push, but instead spend a night at a refuge far up the valley, thus allowing for a more reasonable summit day. Its standard route is very straightforward, not unlike a Class 2 route up a 14er in Colorado.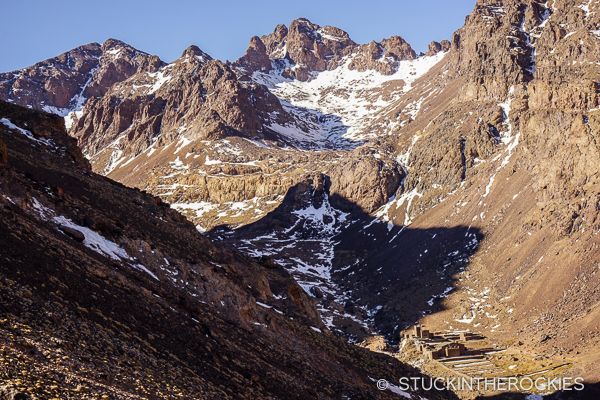 In recent years, the Moroccan government decided that all guests to the Toubkal region need to have a local guide. It keeps people safe and on the route, and it's good for the local economy. And in our experience the guides offer a ton of awesome info on all sorts of topics— local ecology, history, culture, etc. It's good thing. The cost of the guides is fixed at 400 dirham per day (about $40), a far stretch from what a service like that would cost here at home.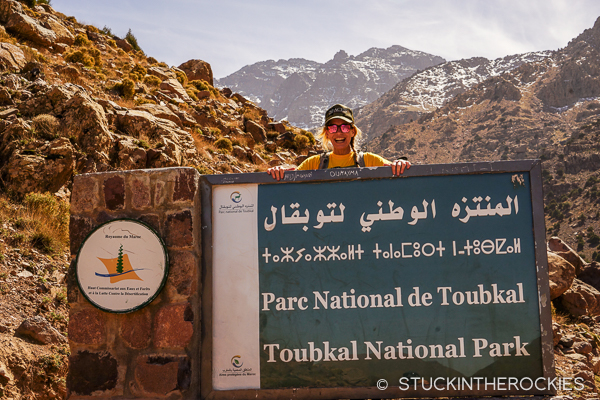 We made arrangements with our guide, Hamid, who works with Moroccan Mountain Guides (link here) and was recommended to us through a friend. The plan was to meet at the start of the trail, at the entrance to Toubkal National Park. With Hamid's help, we checked in at the park entrance, provided our passports, and started up the trail. We spent the next few hours walking up the beautiful valley, for about 6 miles, climbing 4000 vertical feet, to a group of refuges.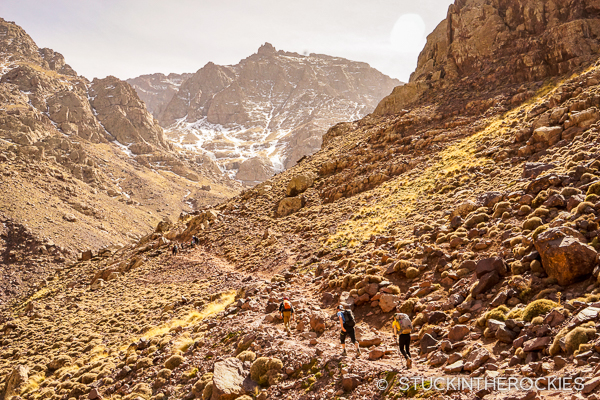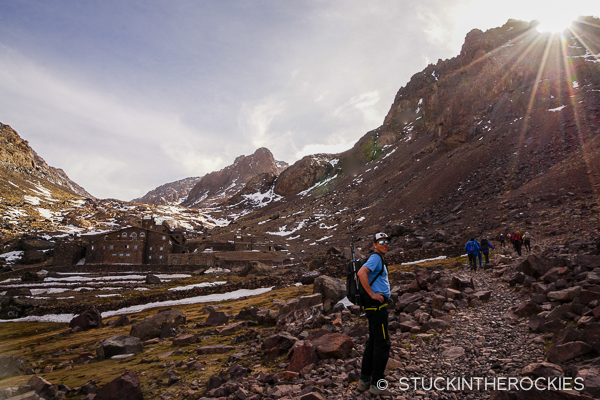 We had made reservations in advance of our trip at the Refuge des Mouflons du Toubkal. Like a European alpine hut, the refuge is quite large, with space for 180 people when full. It provides breakfast and dinner and anything else you might need. All of the lodging is in dorm style bunk rooms, there are some smaller private rooms for additional cost. We found it to actually be pretty nice. In summer months you can pitch your own tent outside the refuge and just use the refuge for meals. In our case, being winter, it was pretty cold out and we were happy to have our own bunk room for the three of us.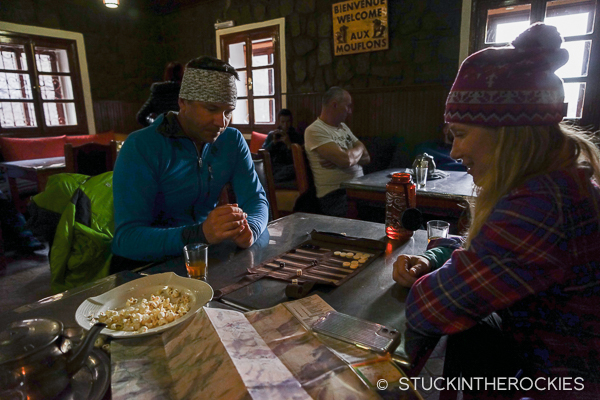 The next morning we were up early, and after a quick Moroccan breakfast, we were out the door and hiking by headlamp in the pre-dawn darkness. We were following the South Col route, which switchbacked up into a big basin, all the way to a ridge which brought us into the morning sun.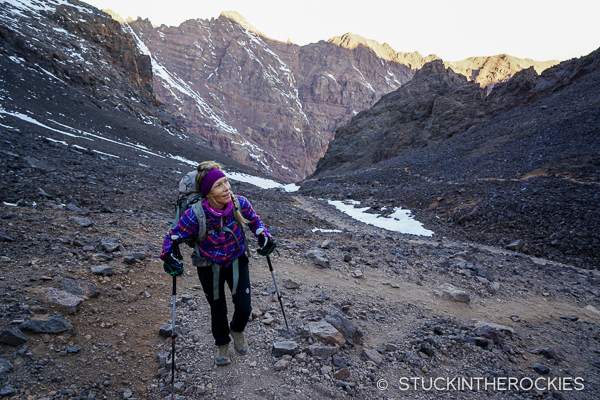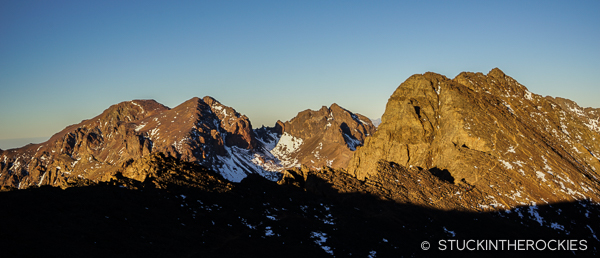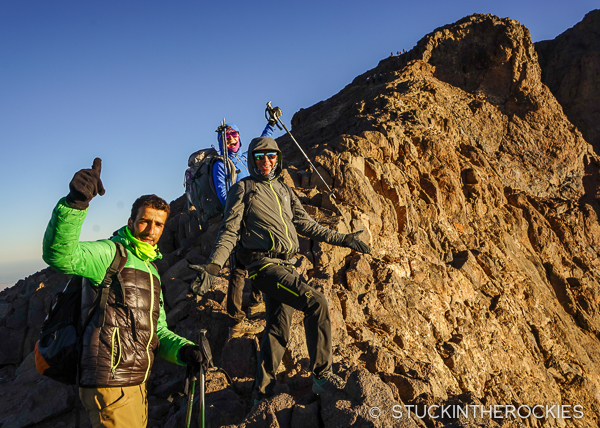 After another stretch along a broad ridge, we were up at the giant summit marker. It wasn't too busy, but it also wasn't quiet. The dozens of others who were at the refuge the night before with us had all left the hut and began their hike much earlier than us, and they were all on and around the summit as we arrived. It wasn't easy to get a moment at the top without others.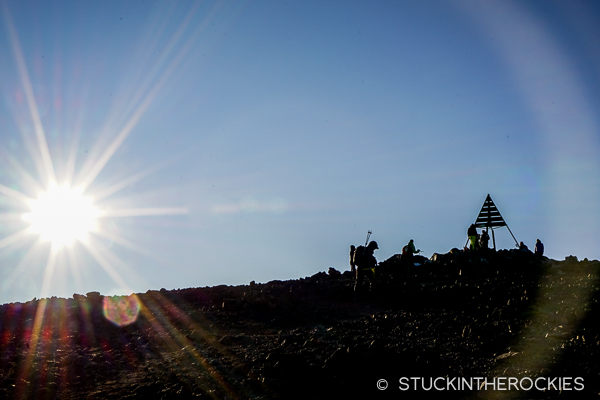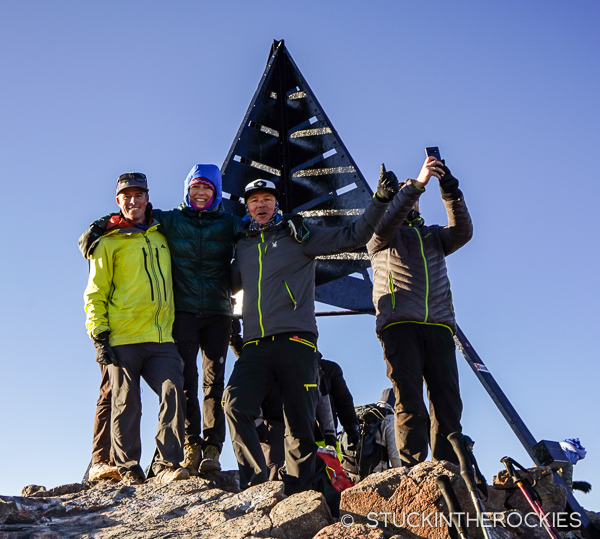 We didn't stay long. At Hamid's suggestion, we descended a different route than we used to get to the summit. The North Col trail was much quieter, in fact we were the only people on this route, we had it all to ourselves. It was a nice way to see Toubkal. Basically we did a big traverse, ascending the South Col route and descending the North Col route. The one caveat to doing it this way is that we had to bring all of our personal items with us over the summit. Since our route of descent wouldn't take us back to the refuge, we couldn't leave any items such as sleeping bags there. We did Toubkal as a carry-over.
The stats of the south to north traverse totaled near five miles and about 3,300 vertical feet gained.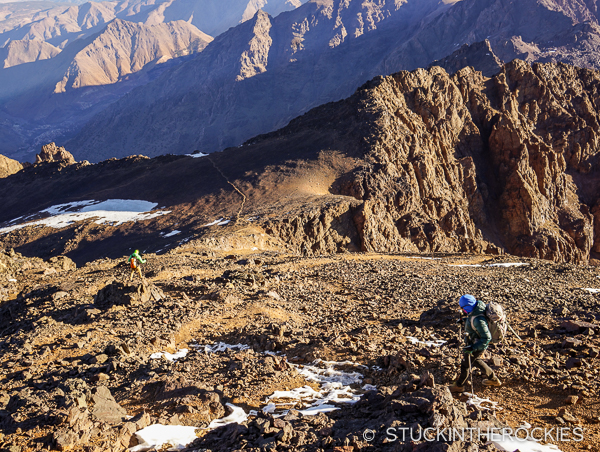 It wasn't a big deal, we didn't really bring too much extra stuff in the first place. And it was well worth a few extra pounds to see a new basin and trail on the descent.
Once off the North Col trail we connected with the valley trail which took us back down towards Imlil. And in true Moroccan style, Hamid, who we loved and were getting to know quite well, invited us to his place in Aremd, near the trailhead for lunch. We arrived at his place, and met his children and wife, who had been preparing tajine for lunch. It was awesome.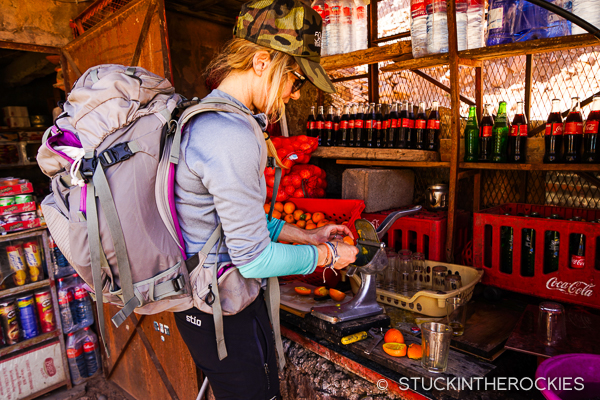 We would definitely recommend Jbel Toubkal as a two day trip if you're looking to climb a mountain while in Morocco. We plan to return on a better snow year to explore it on skis too. The people were all extremely nice, the refuge was pleasant, and the route was fun. Hamid was incredible, you can contact him through the email below if you're planning a trip there in the future.
Hamid Ait El Mouden – Hamid1000jellah@hotmail.fr – +212672625823