Winter weather forces a decision on a holiday hut trip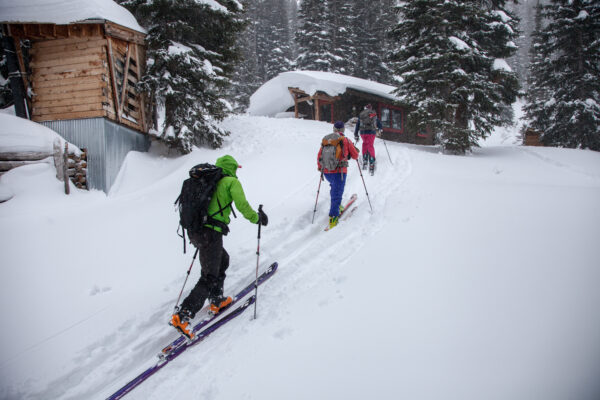 The Christmas Eve Hut Trip was all set. The plan was a familiar one: A few of us would head up to Green-Wilson Hut for the night and spend Christmas Day skiing around Pearl Basin.
This tradition began in 2010. Despite our busy work schedules, my wife Christy and I and a few of our friends happened to have Christmas Day off. We were very familiar with our local hut system, and we thought it would be fun to get out of Aspen for a night during the busy holidays.
Nearly every year since then, we've spent the night before Christmas at one of our local huts.
The destination isn't always the same. We've stayed at the Fabi Hut up high above Smuggler or the Lindley Hut when the group was large and we needed more space. We're particularly fond of the Tagert Hut high above Ashcroft. Its old-school A-frame design looks like a gingerbread house and matches the holiday vibe. We've also called the neighboring Green-Wilson Hut home for the night on several occasions and were happy to be returning.
Green-Wilson Hut is part of the Braun Hut System, which is accessed from the ghost town of Ashcroft. It's located about five miles up the snow-covered Pearl Pass Road. It sleeps eight people and sits at 11,300 feet in the valley below Castle Peak, a local 14er.
This hut is well-suited for a one-night trip like ours. It's a short drive from town, and the skin to the cabin usually takes about 2 hours. That makes it close enough to be able to make a quick turnaround, yet far enough away that you feel like you've truly escaped the holiday madness of Aspen.
The routine is usually pretty straightforward—those in the group who are free on Christmas Eve head in first and get things organized. Various chores always need attention— from shoveling the deck and walkways to firing up the woodstove. The hut is cold upon arrival, and snow needs to be melted for drinking water, cooking, and cleaning. When the others in the group who had to work that day arrive later, everything is already set up.
Early-arriving friends can also get started on appetizers, dinner, and libations. Hut "slushies" are a holiday staple, made with fresh snow and whiskey. We'll try to prep food beforehand, but there's always some cooking that's required. Christy usually volunteers to take care of the main course. She'll get something special from ACES' Rock Bottom Ranch, like a sustainably raised holiday ham or turkey, and everyone else contributes a side dish or two. It doesn't have to be too fancy because everything tastes good when you're out in the mountains.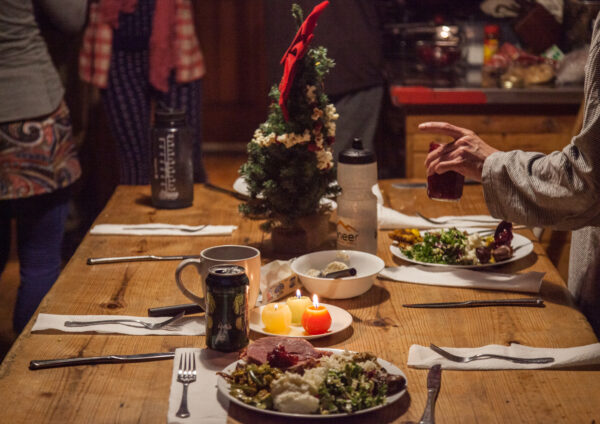 After dinner, dessert, and drinks, we load up the stove and head to bed.
Christmas morning is always relaxing, with an extensive coffee session followed by breakfast. After that, it's time to head out on our annual Christmas Hut Trip ski tour.
If snow conditions permit, there can be great skiing on Christmas morning. The slopes above the hut are relatively mellow, and avalanche terrain can usually be avoided. When the weather isn't favorable or the snowpack is thin, we usually skin up the low-angled gullies to a high point called Mace Saddle.
If snow coverage is adequate and stability is good, various ski lines and nearby summits could be added to the tour. For example, there are fun bowls and couloirs that descend off neighboring Mace Peak. If you're confident in the conditions, nearby 13ers like Pearl Mountain or West Pearl Mountain can be climbed and skied from their summits.
Wherever or whatever we end up skiing, it's always a good time. If we're really lucky we might see some bighorn sheep or ptarmigans burrowing in the snow. Then it's time to pack up and head back down to town.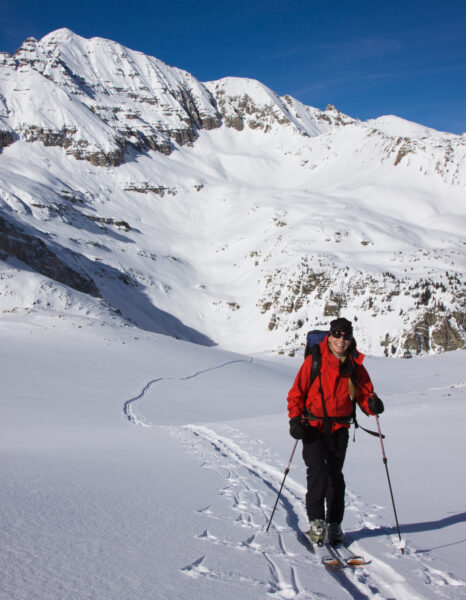 That was the plan, at least. But fickle mountain weather can cause the best-laid plans to go awry.
As our trip approached, we heard increasing chatter about a big winter storm headed our way. The day before we were to depart, a Winter Storm Warning was issued for the entire time we had planned to be away. It called for impressive snow totals.
We couldn't ignore it. The route to the hut passes below numerous avalanche paths. Some of us had planned to skin up to the hut late in the day, in the dark, alone. If the snow forecast was accurate, we needed to consider whether or not it was safe to go at all.
We've all seen forecasts miss and storms that didn't deliver as promised. So rather than throw in the towel too soon, we waited until the morning of Christmas Eve before making a decision. We could probably stick with the plan if the storm were a dud. But if it snowed as they said it would, we might have to pull the plug.
And snow it did.
Anyone who was around here on Dec. 24 was witness to the intense weather and copious snowfall. It was a big storm by any standard. It made the decision an easy one— we had to abandon our plans for Green-Wilson Hut.
When you've been adventuring in the mountains as long as we have, you learn to accept the idea that the mountains and weather are ultimately in charge. So it isn't a failure to change or postpone plans in the interest of safety. There will always be another opportunity when conditions are right.
By Christmas morning, it was clear our decision was the correct one. Town was buried in snow. The backcountry forecasters were reporting natural avalanche cycles. We felt good about making an objective call based on safety, that we weren't blinded by the desire to get out on our little holiday escape when it wasn't safe.
Not only that, but the backup plan was pretty fun in itself.
After having our hut dinner at home, we headed to Highlands first thing on Christmas morning. Almost two feet of snow had fallen in the storm, and ski conditions were as good as they get. We lapped Oly Bowl, Steeplechase, and Temerity, skiing way more than we ever would have been able to up at the hut. It was one of the most memorable Christmases we've ever had.
So we'll reschedule the hut for Christmas Eve of 2022 and give it a go then. And if conditions are safe and we continue the tradition of getting up to a hut, you can bet we'll be reflecting back on 2021 and the incredible Christmas Day skiing we all had.